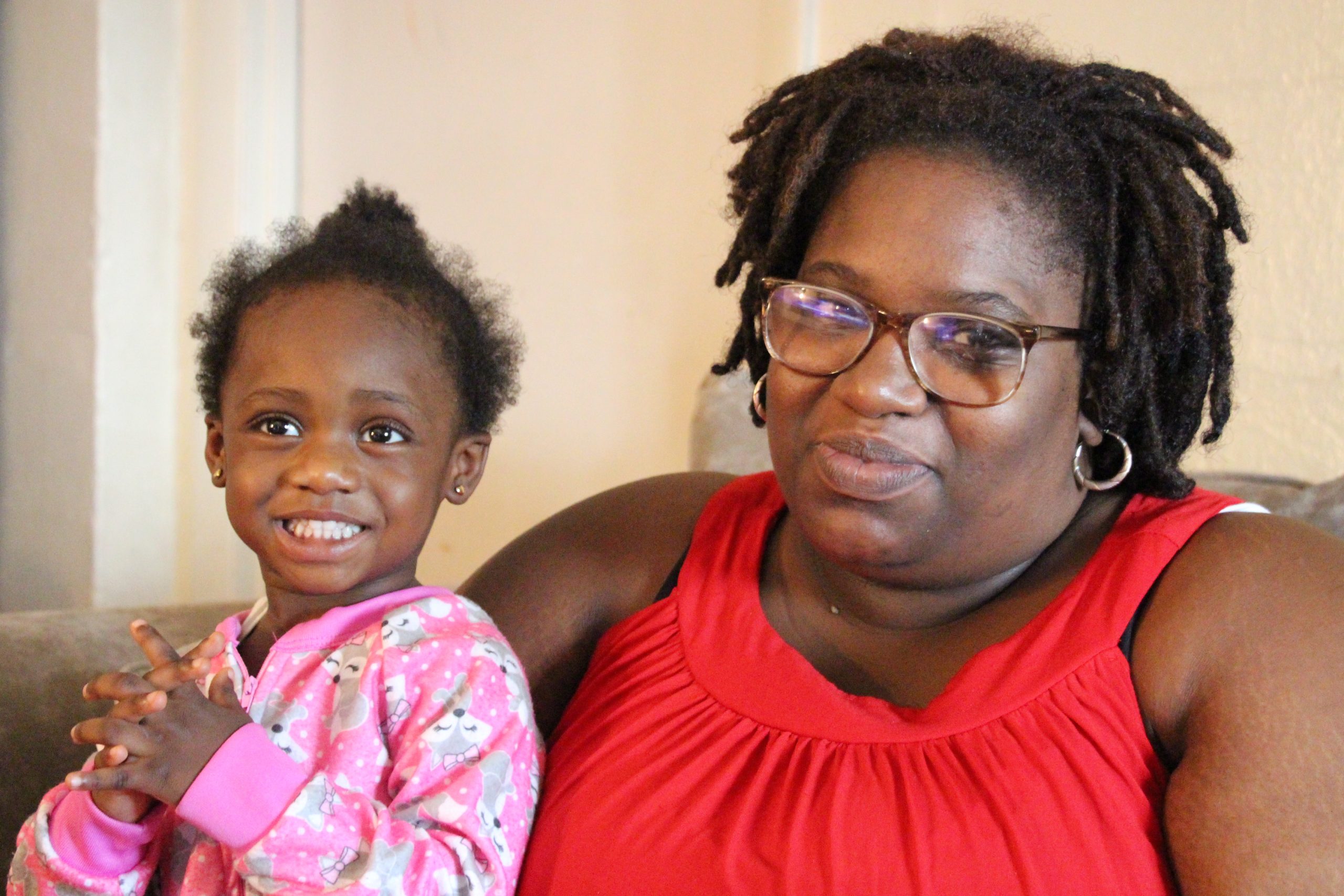 A Place to Call Home
How hard can it be for Central Florida families to find a good, affordable place to call home?

For Shanaqua and Frankie Gibson, it wasn't easy. Over the years, the couple and their three children lived with family members and even in a hotel before they finally found a place of their own. Unfortunately, while the rental property on South Street fit their limited budget, the conditions made daily life unbearable, and even dangerous. The roof leaked in every room. A red substance dripped from the bathroom ceiling. Rats came in through holes in the kitchen, leaving droppings on the floors and counters. Cockroaches scurried into the corners anytime a light flickered on. This was no place for a family to call home.
Today, thanks to the Parramore Asset Stabilization Fund (PASF), Shanaqua and Frankie's place has a new roof, kitchen, bathroom, flooring, and an entirely new HVAC system. Certificates of accomplishment and volunteerism, earned by family members, hang proudly on the walls, and inspirational scripture verses greet anyone who comes through the door. Most important of all, the family lives in a clean, comfortable and safe place to call home.
A collaboration for good
With such rapid growth happening across Orlando, rising rents and scarce amounts of affordable housing leaves many families, such as the Gibsons, feeling stuck. Already, nearly 48% of Orlando residents spend more than 30% of their income on housing!
While growth is inevitable, a safe and healthy home shouldn't be a luxury. That's why three nonprofits – Florida Community Loan Fund, Central Florida Foundation, and New Jersey Community Capital – joined forces in February 2019 to form the PASF, which addresses the reflexes of growth in one of Orlando's most historic neighborhoods. Their goal is to improve and preserve quality, long-term, affordable rental housing through an $8 million investment.
PASF purchased 83 scattered-site residential units across 44 properties in Orlando's Parramore neighborhood, with a commitment to renovate the homes and keep rents affordable. Now, rehab work is underway, and more than 70% of the properties are now complete, with all work expected to be finished in the third quarter of 2020.
PASF even hired Frankie to be a part of their renovation team, allowing him to gain hands-on experience while transforming his own family home.
"This experience has helped me to learn new skills that I'll be able to take to future jobs and better support my family," said Frankie.
A new place to live, and a new life
For Shanaqua and her family, the impact of PASF and Central Florida Foundation goes far deeper than the walls. Thanks to a partnership with Orlando Utilities Commission, the home features energy conservation upgrades such as attic insulation, duct repairs, window replacements, and more efficient plumbing to help reduce monthly utility bills. And despite all the renovations and improvements, rent will not increase more than 2% per year.
The family also participates in programs that improve life beyond the physical home. Shanaqua has been a part of the Parramore Kidz Zone (PKZ) Alumni Association and completed the PKZ Baby Institute twice. Both initiatives are supported by the Legacy Trust for Orlando Children Fund at Central Florida Foundation, a long-time partnership with the City of Orlando.
"The Baby Institute showed me how to be the best mom for my kids," said Shanaqua, who gained useful tools and skills for raising her kids, helping with homework, and creating a stable home environment.
Growing up in their safe and stable home, Camille (8), Caden (6) and Faith (3) now feel secure enough to focus on homework and just being kids. Shanaqua and Frankie have more peace of mind—there are no surprises waiting at home, and if any issues arise, they can always count on support from the PASF community liaison. Finally, the entire family can catch their breath.
"My family is everything to me and it makes a big difference to live in a place that I'm proud to call home," said Shanaqua.
Parramore Asset Stabilization Fund would like to thank these partners for their support: JPMorgan Chase Foundation • City of Orlando • OUC • Wells Fargo • SunTrust now Truist • Seaside National Bank & Trust • Orlando City Soccer Club • Orlando Magic • BB&T now Truist • and other private donors.