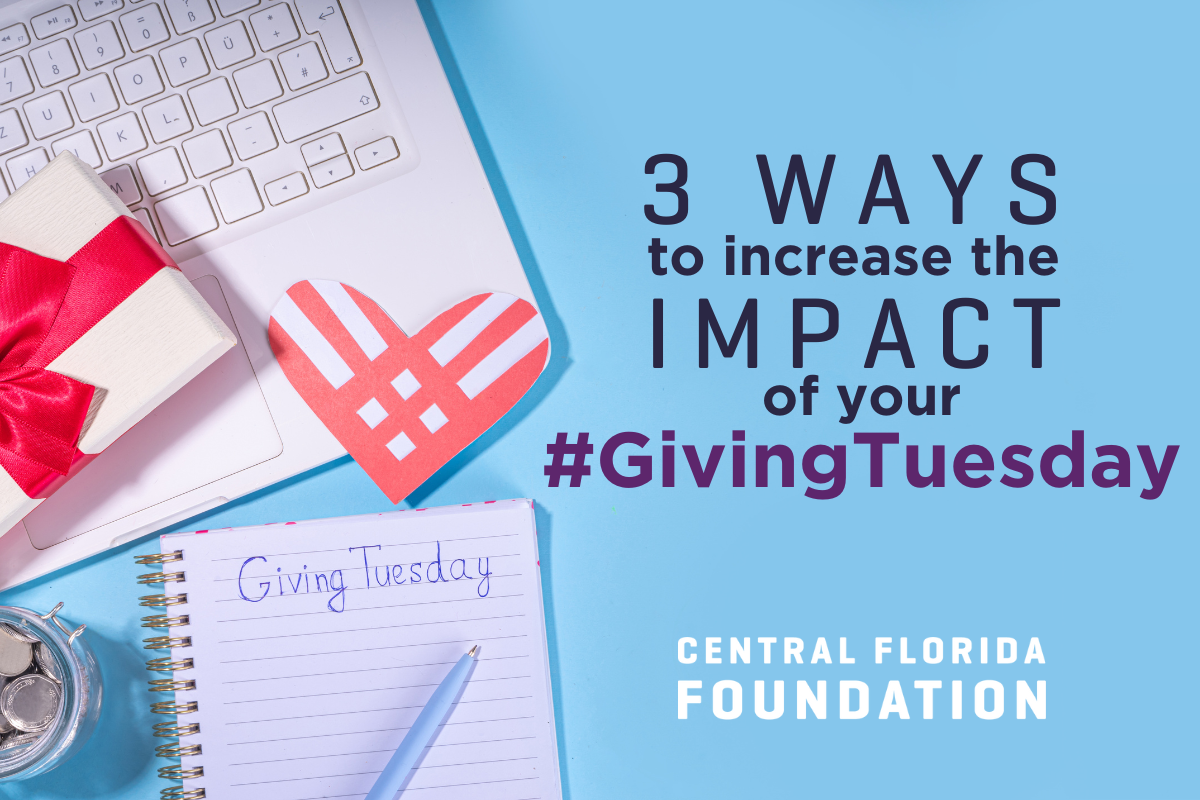 3 Ways to Increase the Impact of Your GivingTuesday
Every November, the world brings attention to philanthropy through GivingTuesday, a global initiative that celebrates the very concept of giving – the donation of time, dollars, and energy – to those in need. The idea behind GivingTuesday is a good one: let's recognize generosity and encourage others to take on a more community-minded spirit moving forward.
It's a good start. But what happens after GivingTuesday?
At Central Florida Foundation (CFF), we believe that impactful giving means that we're in it for the long run. We're a place for those who want to give strategically, see real change in the community, and allow the community to prosper – forever.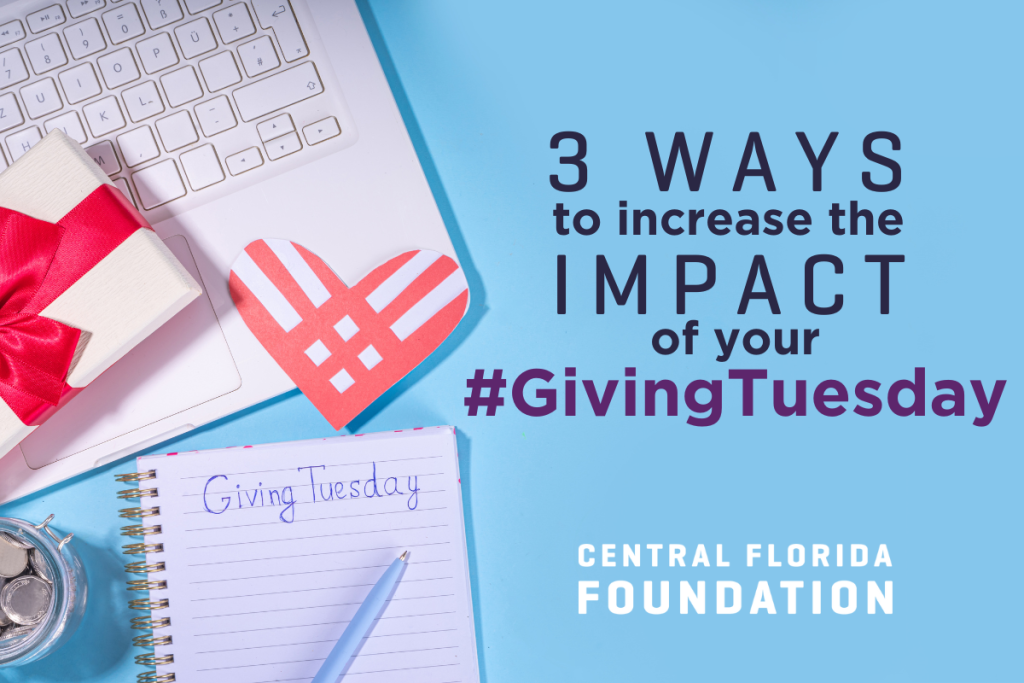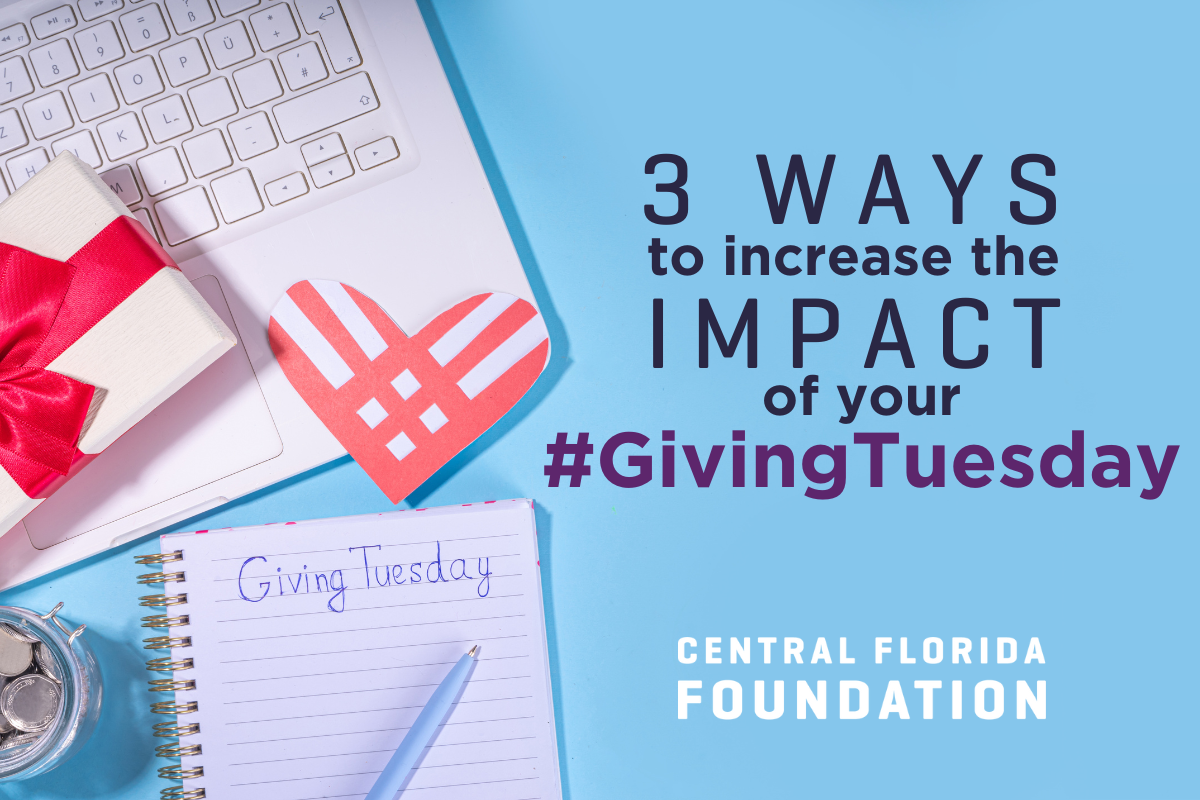 GivingTuesday Meets GivingStrategically
In short, CFF believes that giving is more than just dollars, more than just a day of volunteering, more than a day of generosity. Instead, we believe philanthropy is a way of life that requires one's heart, mind and dollars to be invested to make lasting impact. This kind of giving isn't a one-day effort. In fact, it's not even a one-month or one-year effort.
Sound overwhelming? We promise, it's not as scary as you think. Because, at CFF, we're all in it together. You've got us and our whole community of strategic givers.
Not so scary now, right?
Interested in a more long-term view of giving? Ready to generate collective impact that helps to make Central Florida an even better place to call home?
We have a few ideas for you.
If you want to donate…
1.) Make informed choices with Nonprofit Search.
Use Nonprofit Search to explore nonprofit profiles reviewed by the Foundation team. This user-friendly database allows community members to transparently see an organization's financials, mission, impact, governance, and so much more.
2.) Give to an Impact Fund.
Donate to a Thrive Impact Fund in your area of interest.

If you're wanting to donate and volunteer your time…
3.) Join an initiative.
For those who want to become more involved in the community, joining an initiative is a great way to become part of an interest-specific mission.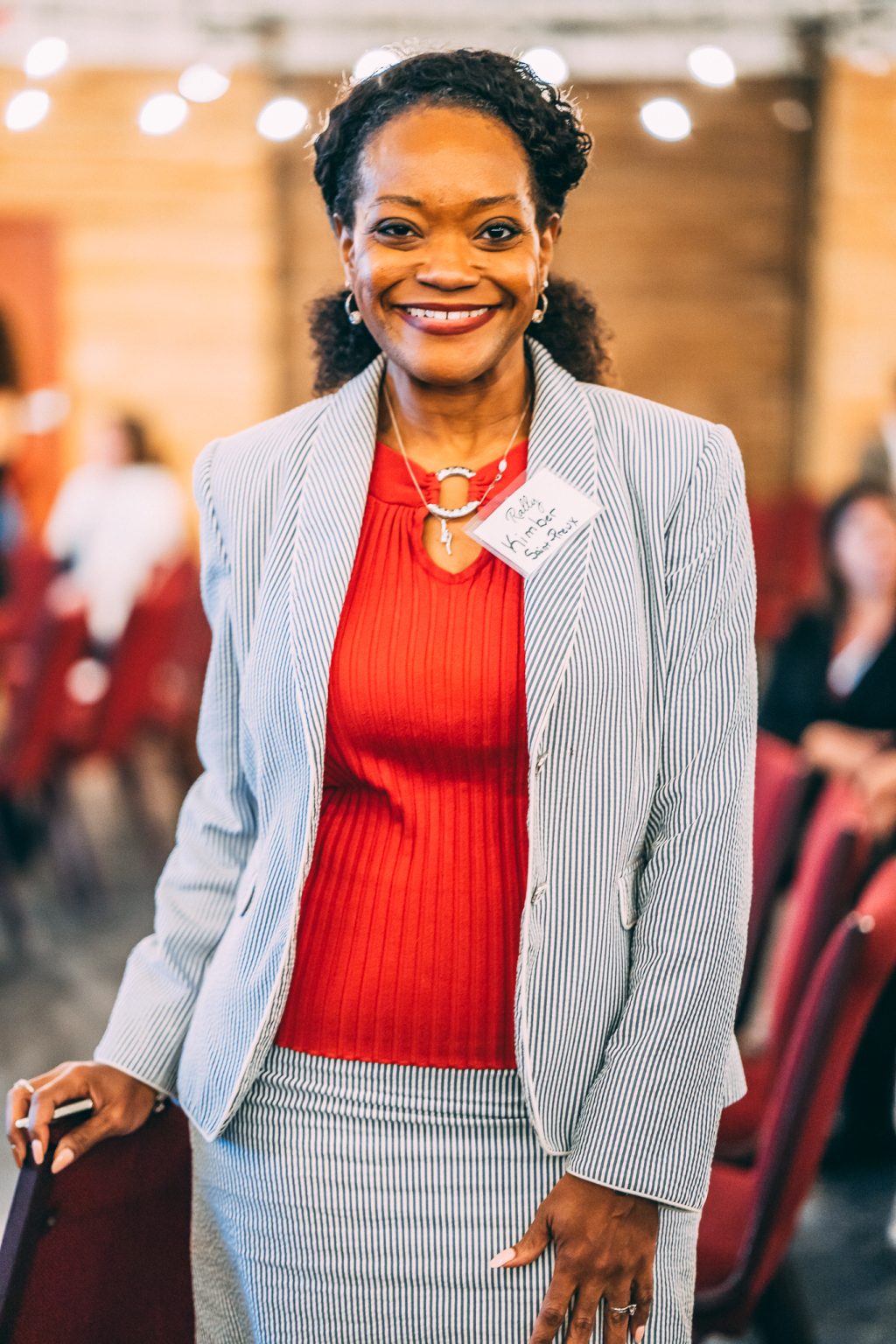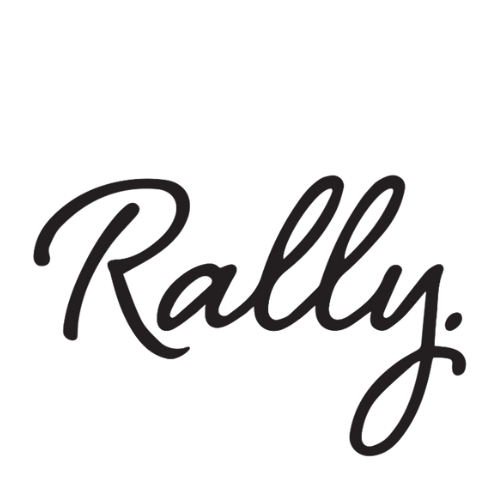 Rally is an international hub for social entrepreneurs to access the required knowledge, resources, and people to transform their early-stage work into sustainable ventures that create positive social change.
Become a Rally Maker: Orlando's leading problems solvers, Rally Makers are no longer content to perpetuate rote strategies addressing symptoms of serious problems. They're ready to support innovative approaches which are reaching for sustainable solutions to the toughest social, environmental, and economic problems. Learn more. [link]
100 Women Strong
100 Women Strong (100WS) is a giving circle dedicated to improving the lives of women and children. As the area's only philanthropic organization built on women-only leadership, collective giving and collaborative grantmaking, 100WS harnesses its unique perspective and collective power to tackle the biggest challenges affecting women and children, identify their root causes and create innovative solutions in collaboration with community partners.
Right now, 100WS is in the middle of 3-year investment in Women's Economic Empowerment. 100WS believes that understanding the causes of women's economic challenges in our region could unlock the answers to many other issues, including multi-generational poverty, domestic violence, and the well-being and education of children; therefore, research and education are a core facet of this initiative's grantmaking process.
The Takeaway on GivingTuesday
GivingTuesday is a great time to start or refresh your philanthropic legacy. Whether you're completely new to this area or you've been a lifelong philanthropist, look at GivingTuesday as a chance to reflect and ask yourself: how can I create positive impact in my community?
At CFF, we believe the answer is straightforward: by engaging in strategic and collective impact.
So, will your GivingTuesday end on Wednesday?
Or will it just be day one of your philanthropic legacy?
---
Tags: 100 women strong, donate, giving tuesday, givingtuesday, how to give, initiatives, rally, social enterprise, thrive, thrive central florida, ways to give