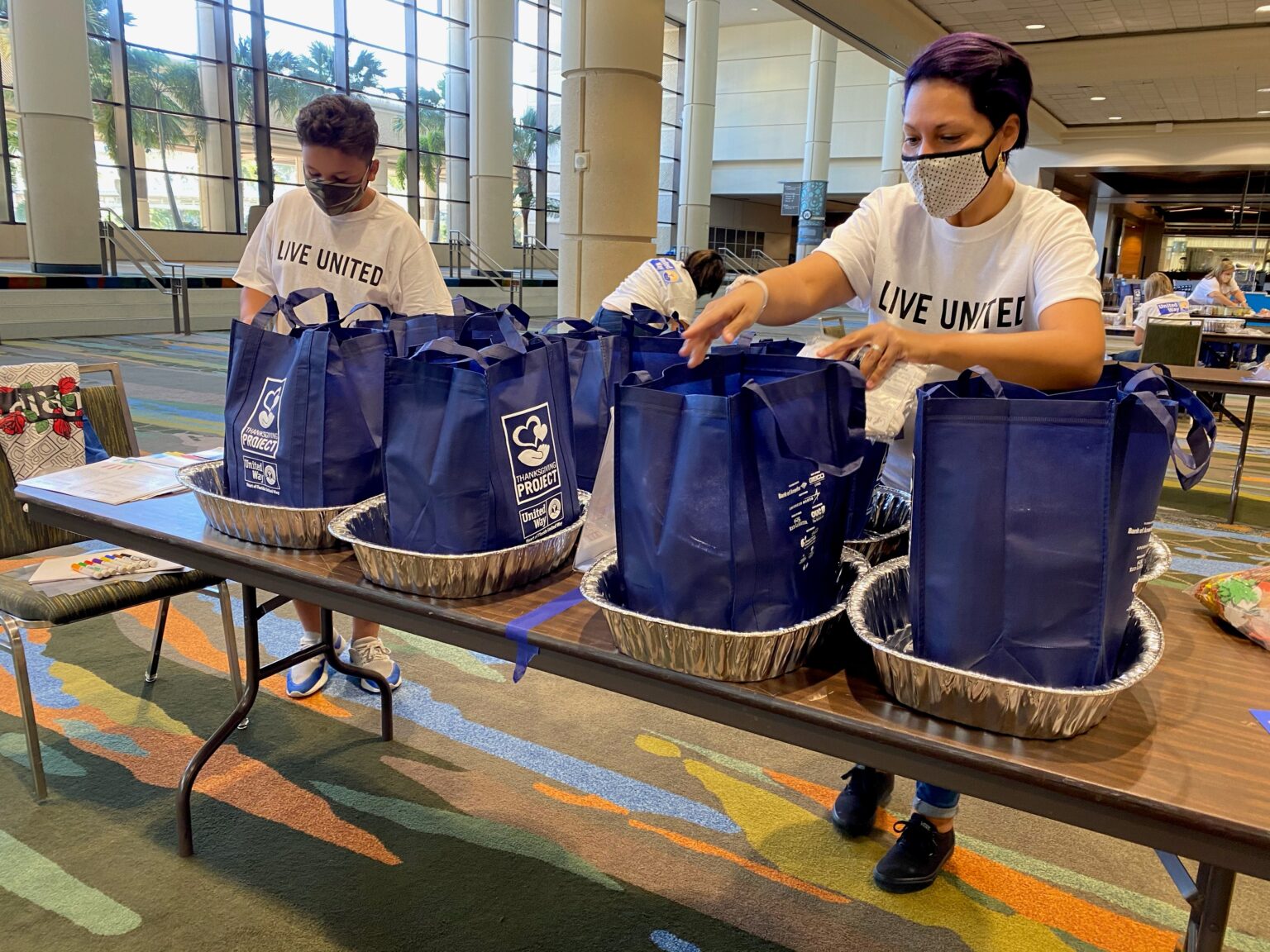 Central Florida Foundation Announces $250,000 Four-Year Investment in Local Thanksgiving Initiative
Orlando, Fla. (November 18, 2021) – Since 2019 the Smart City® Fund at the Central Florida Foundation has provided the funding needed for the provisioning of full holiday meals to struggling families through the Thanksgiving Project at Heart of Florida United Way. This year's investment, the third year of a four-year commitment by the Smart City Fund, will provide Thanksgiving meals to 1,800 families in Central Florida this weekend.
After a turbulent year and a half along with rising food costs and inflation, a holiday meal is not feasible for many Central Florida residents living on an extremely tight budget. The Thanksgiving Project, a community-wide meal-packing event, has been in place for three years to support ALICE families, described as Asset Limited, Income Constrained and Employed individuals who live and work in the community.
ALICE represents 47% of Central Florida's population that works up to three jobs to make ends meet and earns more than the Federal Poverty Level, but not enough to keep up with the cost of living and stands only one unexpected bill away from financial ruin.
Local partner agencies and school districts nominated and referred families to the initiative. The meal kits include shelf-stable holiday staples including stuffing, mashed potatoes, vegetables, gravy mix, apple pie filling and crust, roasting pan, and cranberry sauce in addition to a $30 Publix gift card to purchase protein of choice. The kit also includes a resource folder with agency information for year-round assistance.
"Between continued economic pressure, inflation and the slippery financial slope ALICE families find themselves on, a Thanksgiving meal simply would not have happened if not for the Smart City Fund at Central Florida Foundation," said Jeff Hayward, President & CEO, Heart of Florida United Way. "Heart of Florida United Way and the 1,800 families served by their generosity are very thankful for this grant making the holiday a little brighter for many."
The Smart City Fund at Central Florida Foundation is part of the philanthropic activities of Smart City, a nationwide telecommunications company specializing in convention centers, theme parks and other businesses. Smart City is headquartered in Lake Buena Vista, FL and operates in 17 states and the District of Columbia.
"This year is the 50th anniversary of the founding of our company" said Martin Rubin, CEO and President, Smart City. He added that "over the past half century we have strongly believed that with our success comes the responsibility to give back to our communities. We seek to contribute in ways that reflect broadly held values, have meaningful impact, and work with great community partners. Over the past three years the United Way has been simply amazing."
###
About Central Florida Foundation
Central Florida Foundation stewards philanthropic dollars on behalf of individuals, families, and nonprofits. We partner with people who are determined to make a difference in their community. Knowing that true change demands more than dollars and cents, we foster collaboration, fuel ideas, and spearhead the innovation that will transform our region for good. Learn more here.
Photo courtesy of Heart of Florida United Way