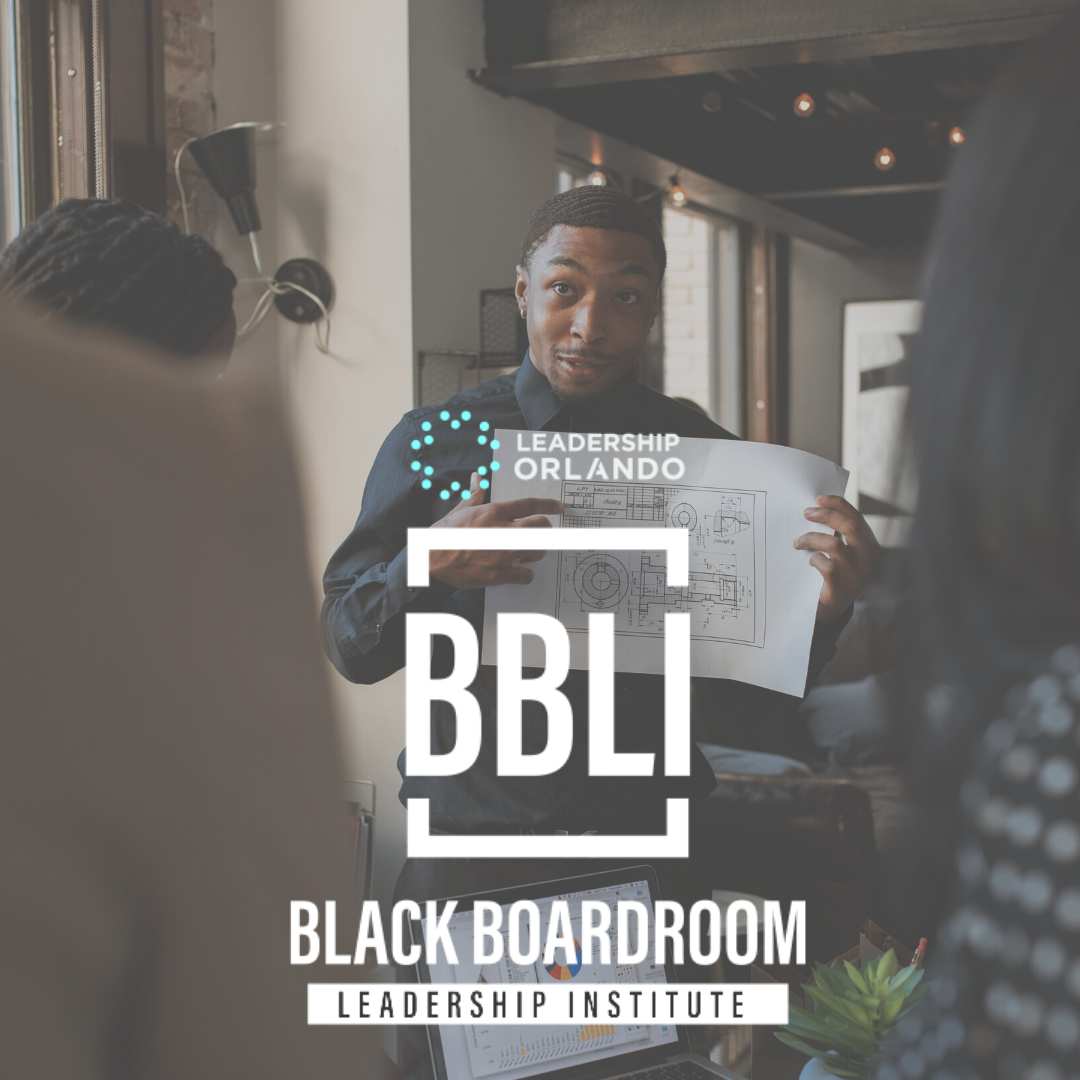 Leadership Orlando Launches Black Boardroom Leadership Institute
The transformational program facilitated by Leadership Orlando, an offering of the Orlando Economic Partnership, seeks to advance inclusion on nonprofit boards and grow Orlando's black talent pipeline.
Orlando, FL – The Orlando Economic Partnership's (the Partnership) Leadership Orlando program announces the launch of the Black Boardroom Leadership Institute (BBLI), a transformational program to help grow a talent pipeline of black leaders and drive change on non-profit boards in the Orlando region. Created through honest conversation and idea generation of committed community leaders, BBLI seeks to address the significant diversity gap amongst Orlando's Non-Profit Board of Directors, with only 11 percent of local boards represented by Black leaders.
BBLI's program will consist of two leadership training tracks: one for current nonprofit executive leadership focused on culture change, inclusion and board diversification and the other focused on authentic leadership and future board placement for Black community leaders.
"We remain committed to fully achieve our region's promise, where Orlando is a place in which equity and inclusivity are the foundation for prosperity," said Partnership president and CEO Tim Giuliani. "With our continuous innovation in community collaboration, this initiative will help address and remove barriers for the recruitment and placement of Black executives on boards."
Thanks to an investment from an anonymous fundholder at the Central Florida Foundation, the program is set to pilot February through November 2022.
"To truly be authentic and effective, the boardroom tables in Central Florida must represent the community they aim to serve," said Mark Brewer, president and CEO of Central Florida Foundation and BBLI advisory council member. "Central Florida Foundation is honored to have helped convene talented and passionate leaders around this long overdue effort and to see it become a reality today."
"Our goal at the Central Florida Urban League has been to build bridges and end generational poverty throughout our community and this program serves as another way to fulfill that mission," said Glendon Gilzean Jr., president and CEO of the Central Florida Urban League and BBLI advisory council member. "I am thrilled to support Leadership Orlando and their work to grow a talent pipeline of Black leaders and drive change on non-profit boards in our community."
The BBLI program represents an additional layer of the Partnership's commitment to Diversity, Equity, and Inclusion efforts. In January 2021, the Partnership spearheaded a D,E,&I pledge in which local corporations committed to educating themselves about systemic racism, using their corporate power and influence to endorse racial justice policies and improving wage equity, growth potential and advancement opportunities for racial minorities. To date, more than 150 corporate CEOs have signed the pledge.
"The Black Boardroom Leadership Institute is a wonderful example of nonprofits dedicated to creating cultures of belonging and meaningful diversity, equity, and inclusion," said Daniel J. Downer, executive director of the Bros in Convo Initiative and BBLI advisory council member. "The institute is going to open doors of opportunity to those historically marginalized from power into positions of decision-making leadership and positively transform Central Florida's nonprofit ecosystem."
For more information on the BBLI program schedule and application, visit the Black Boardroom Leadership Institute webpage.
###
 About the Orlando Economic Partnership
The Orlando Economic Partnership (the Partnership) is a public-private economic and community development organization that works to advance Broad-based Prosperity™ by strengthening Orlando's economy, amplifying Orlando's story, championing regional priorities, empowering community leaders and building a brilliant region. These five foundational objectives serve to improve the region's competitiveness while responding to the needs of communities, residents and businesses. Learn more at Orlando.org
About Leadership Orlando
With over 5,000 graduates, Leadership Orlando is Central Florida's only community leadership program that spans across the entire seven-county region and is the largest program in America, offering multiple classes each year. For more, visit LeadershipOrlando.org
About Central Florida Foundation
Central Florida Foundation stewards philanthropic dollars on behalf of individuals, families, and nonprofits. We partner with people who are determined to make a difference in their community. Knowing that true change demands more than dollars and cents, we foster collaboration, fuel ideas, and spearhead the innovation that will transform our region for good. Learn more at www.cffound.org.
Media Contact:
Justin Braun | Justin.Braun@Orlando.org | 407-902-0211