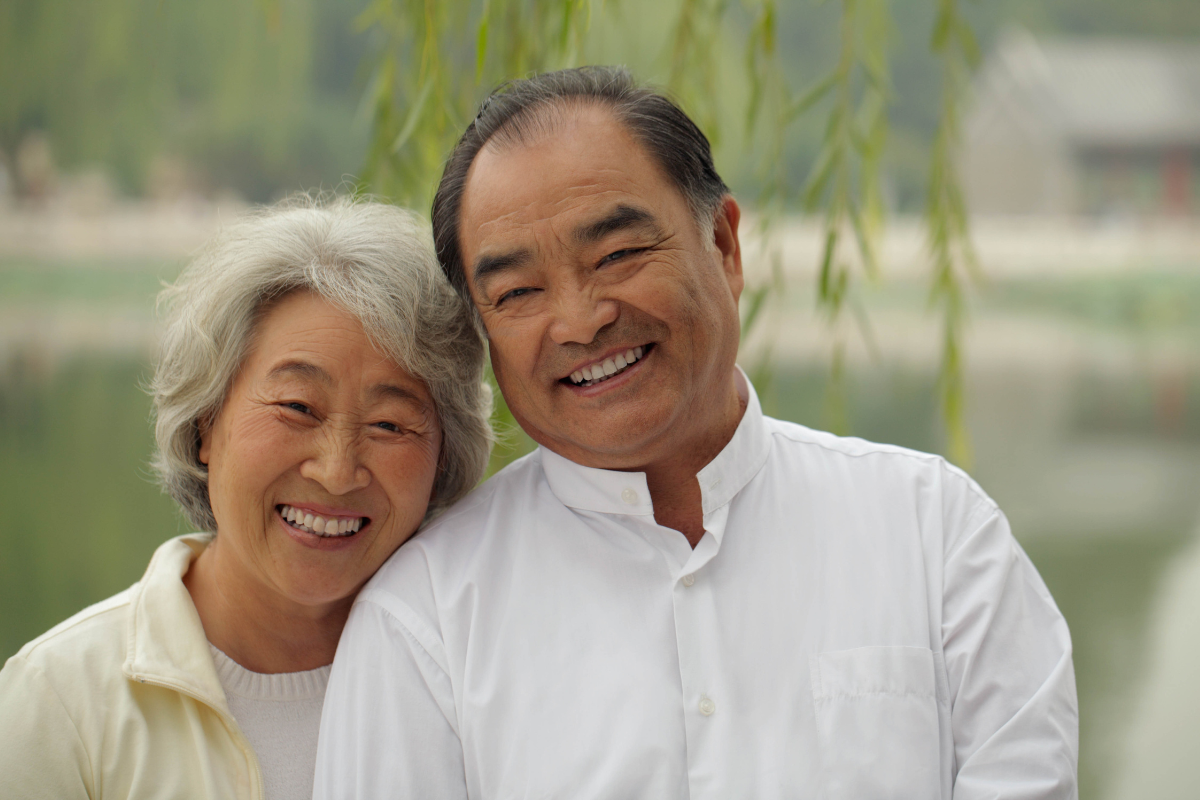 4 Resources for Incorporating a Charitable Gift into Your Will
Table of Contents
Incorporating a charitable gift in your will is known as planned giving. As with any component of a will, planned giving is a choice that is as unique as every individual. While there is always a focus on one's heirs, some community members consider a gift to a nonprofit as a sensible piece of their estate plan.
Why Create or Update a Will?
While it might seem uncomfortable to talk about, you'd be surprised at the peace of mind granted to you by having your affairs in order. Therefore, before we get into resources for incorporating a charitable gift to your will, let's first explore why you might want to create or update your will. Take a look at the graphic below and consider which ones align with your reasoning the most. Considering your "why" gives you a path and purpose as you begin this process.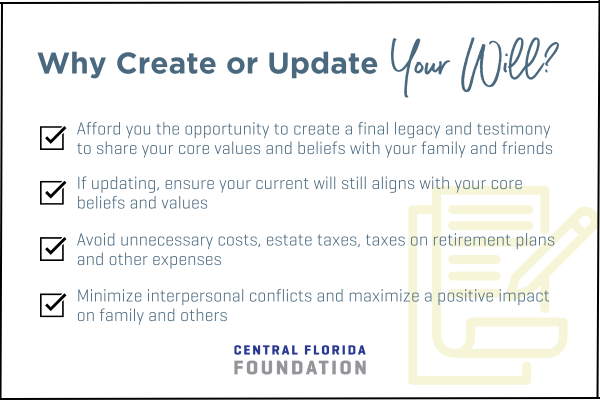 In addition to the reasons listed above, creating or updating a will also sets in place an inheritance that meets the needs of family, individuals and charities important to you and ensures the transfer of your estate occurs with the fewest delays.
Note: We always recommend seeking the advice of a trusted professional advisor to assist you with any estate planning questions and needs.
Incorporating a Charitable Gift into Your Will
Orlando philanthropists Jim and Valeria Shapiro share about their thoughts on community and estate planning, and their reasons for prioritizing charitable planning.
The 5% Give Back
While there is a misconception that only the wealthy can leave an impact, the reality is most people will pass with some form of an estate. Every gift is a gift that leaves impact, especially when one considers collective impact, a concept Jim Shapiro alludes to in the video above.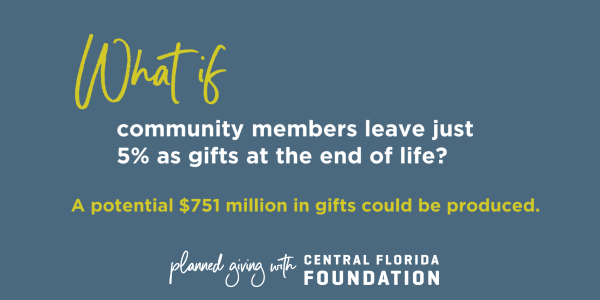 In our region, if we all gave just 5% of our estate to the community at end of life, a quarter of a billion dollars in gifts could be produced, and that's not even considering the potential impact of endowing gifts for sustainability. Remember: 5% is not a dollar amount, but a portion – so it doesn't matter the size of your estate. Your gift makes a lasting impact through collective giving alongside other champions of our community.
---
4 Resources for Incorporating a Charitable Gift in Your Will
As a community foundation, we believe in helping others creating meaningful legacies while making the process as simple as possible. With that, we've curated a list of four key resources that will help you along your journey of incorporating a charitable gift into your will.
Resource #1: Download a Copy of our Legacy and Estate Planning Guide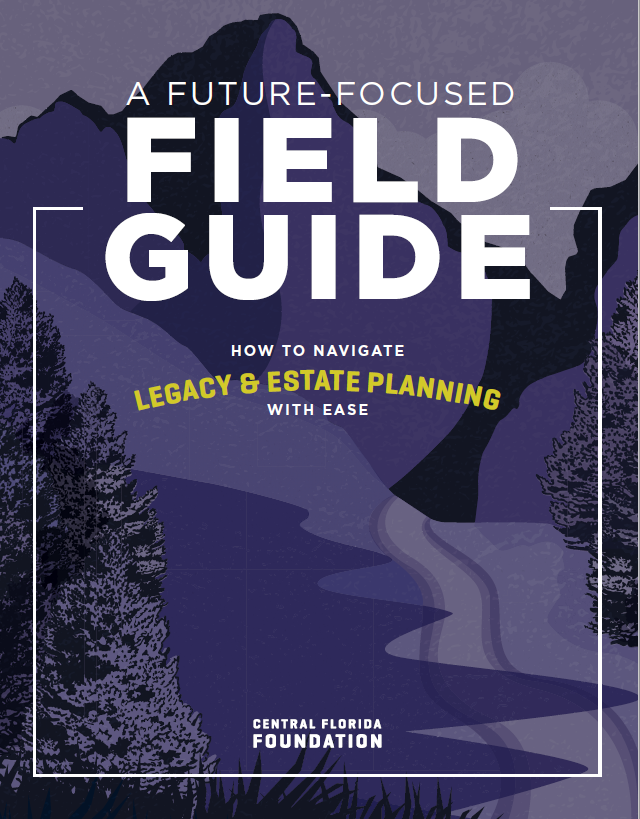 This complimentary resource provides a roadmap for you and your loved ones and serves as a planning tool in preparation for meeting with your professional advisor. Whether you're just starting your estate planning venture or are considering changing your current plan, we're here to offer tips to help you design your legacy exactly how you want it.
---
Resource #2: Explore our Planned Giving Hub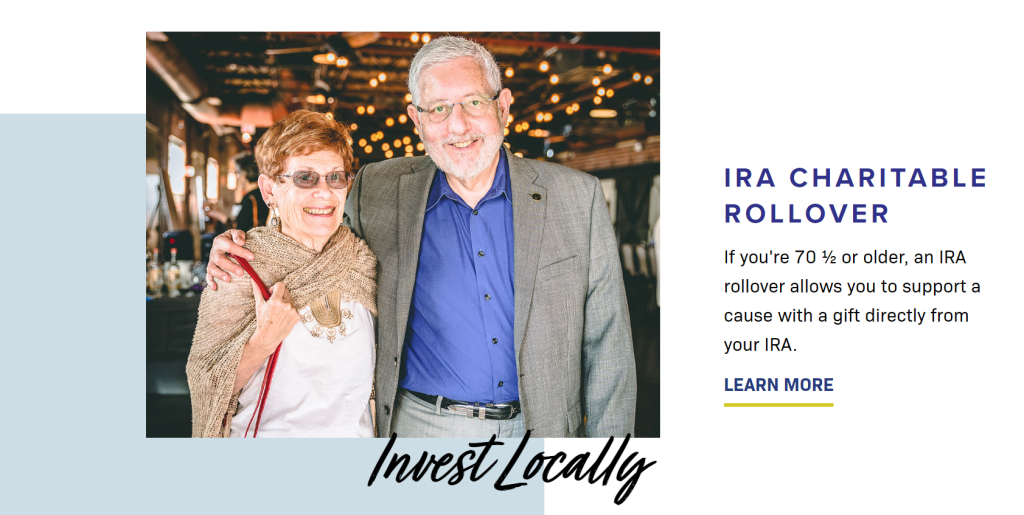 Did you know that Central Florida Foundation has an entire website dedicated to planned giving? On this site, you'll find a plethora of resources, from bequest language to will planning tools. Want to better understand a charitable gift annuity or see how an IRA charitable rollover works? This is a great starting place for learning about all things planned giving. If you have any additional questions, our team of experts are here to help. Email the Foundation's philanthropy team today to start a conversation.
---
Resource #3: Sign Up for our Planned Giving E-Newsletter

Join our e-newsletter list that features news from Washington, Savvy Living, gift stories, finance news and timely articles. Skimming this weekly email will help you to become more acquainted with estate planning and planned giving methods that will help to shape your own personal choices around your legacy planning.
---
Resource #4: Central Florida Foundation's Team of Planned Giving Experts
Central Florida Foundation offers not only a team of planned giving experts, but also a searchable database of registered 501(c)(3) nonprofits that can help you find an organization that aligns with your core values.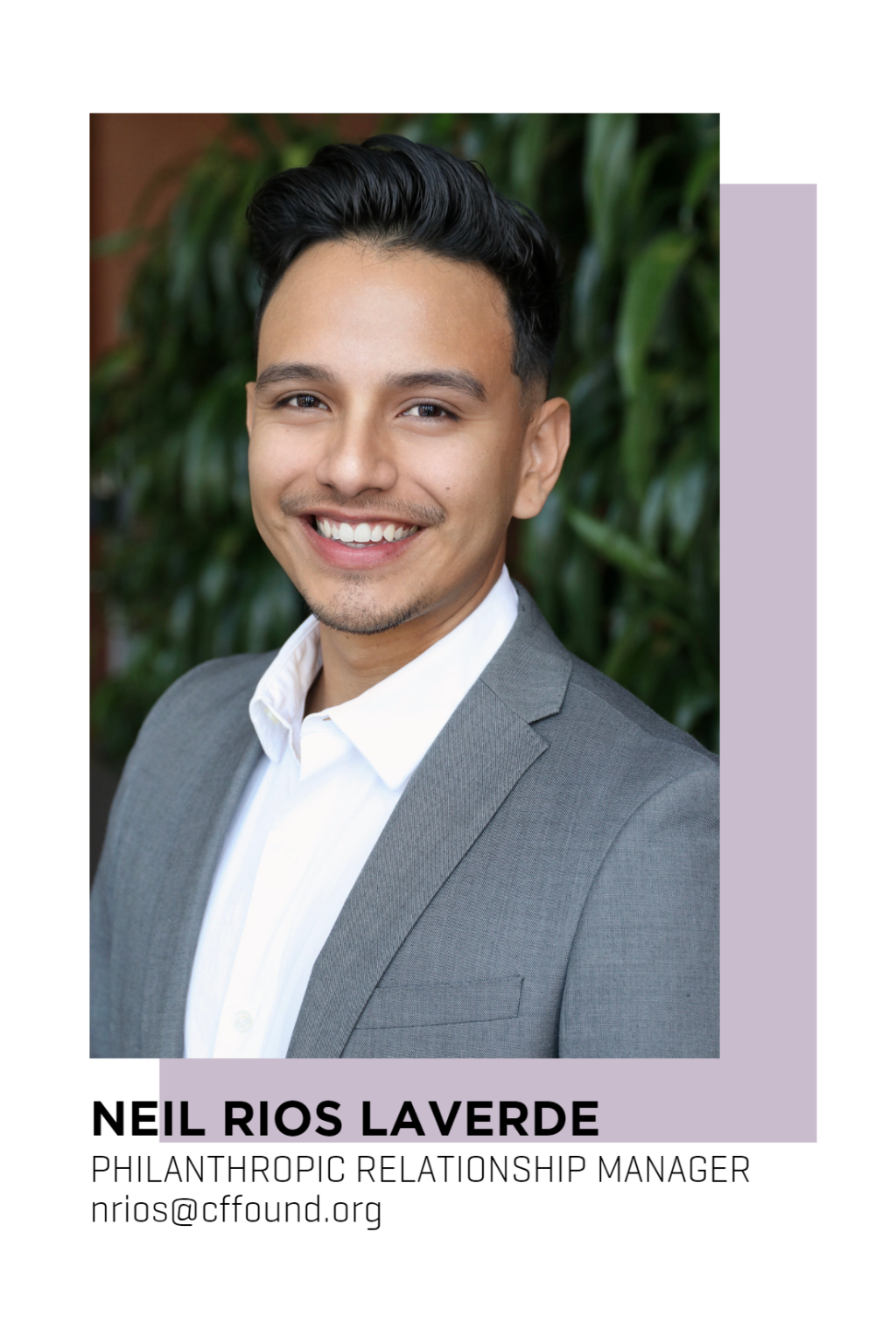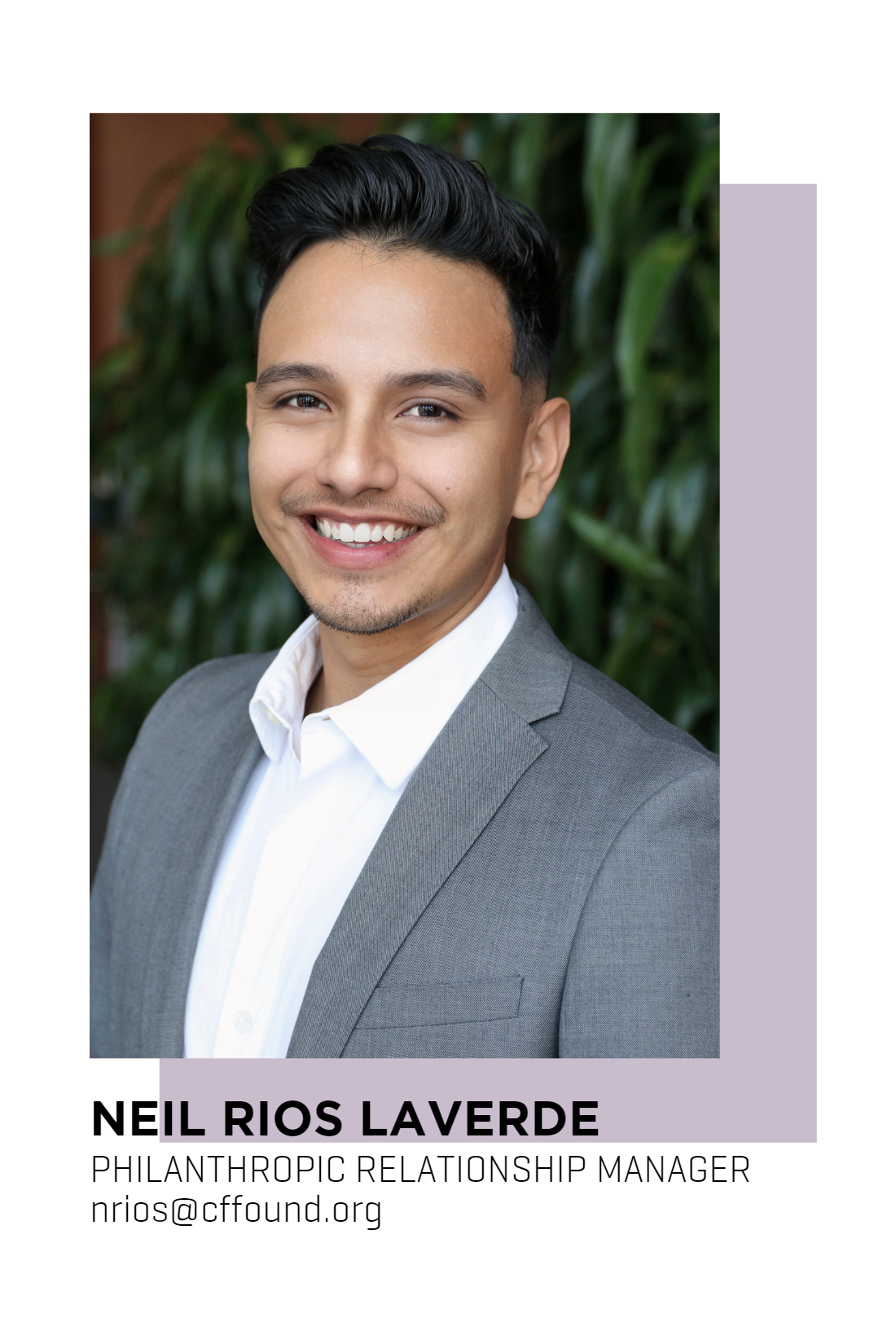 Contact Our Philanthropy Team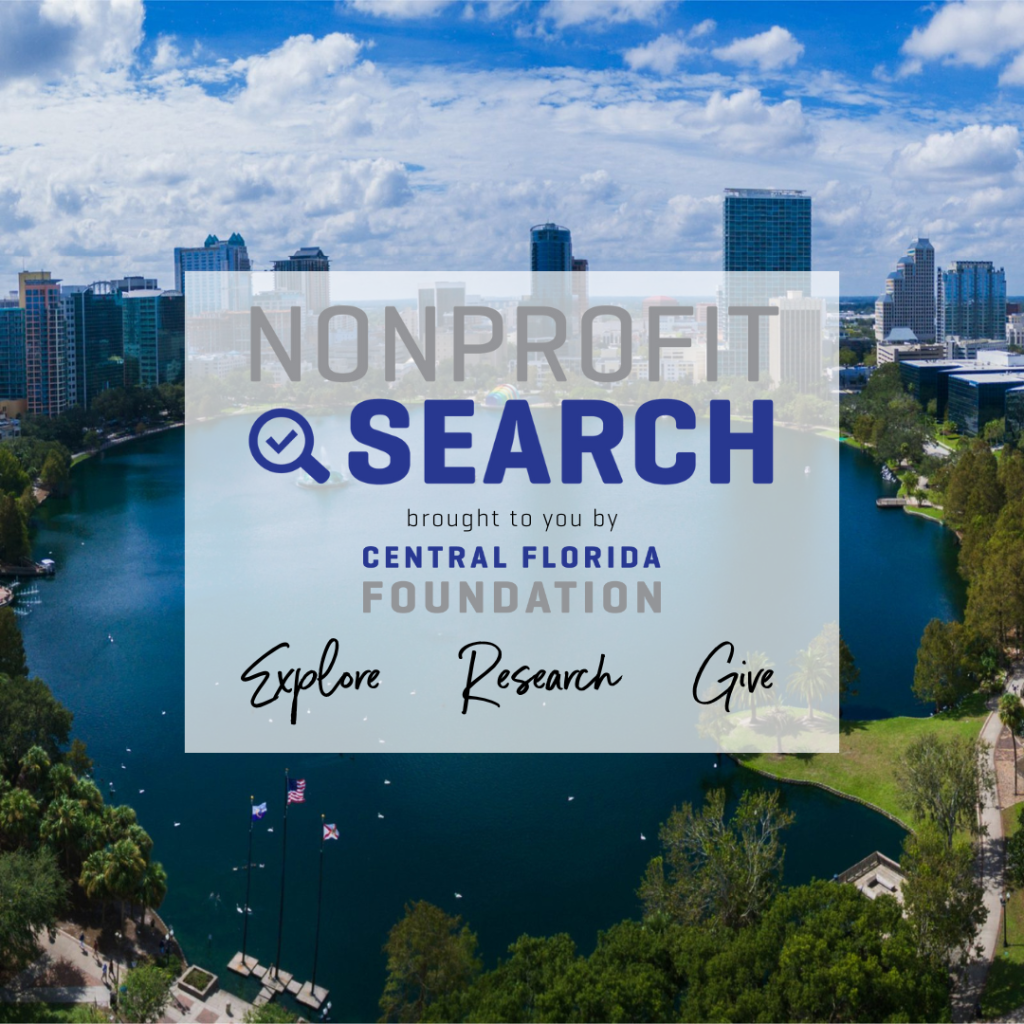 Nonprofit Search Database
Nonprofit Search is a searchable database of profiles with information provided by nonprofits and validated by the Foundation team. It is designed to help you easily find nonprofits and learn more about its efforts. Each profile provides in-depth information about organizations and can help inform strategic financial investments and educate about quality-of-life issues that impact the community.
---
Incorporating a Charitable Gift in Your Will: The Takeaway
Charitable gifts in a will can help you leave a meaningful legacy while also continuing your philanthropic mission into the future. A simple 5% give back to the community from your estate can compound the impact your gift and other community-minded people. Finally, Central Florida Foundation has many resources available to help you consider a planned gift component in your will.
While it might never seem like the right time to discuss your affairs, starting the process is often the most difficult part. This article might be just the gentle nudge you need to begin learning and considering how you'd like to organize your estate and leave a lasting legacy.
Alongside these resources, Central Florida Foundation always recommends contacting your professional advisor to get the conversation started.
If you have questions related to planned giving, please reach out to our team at 407-872-3050.