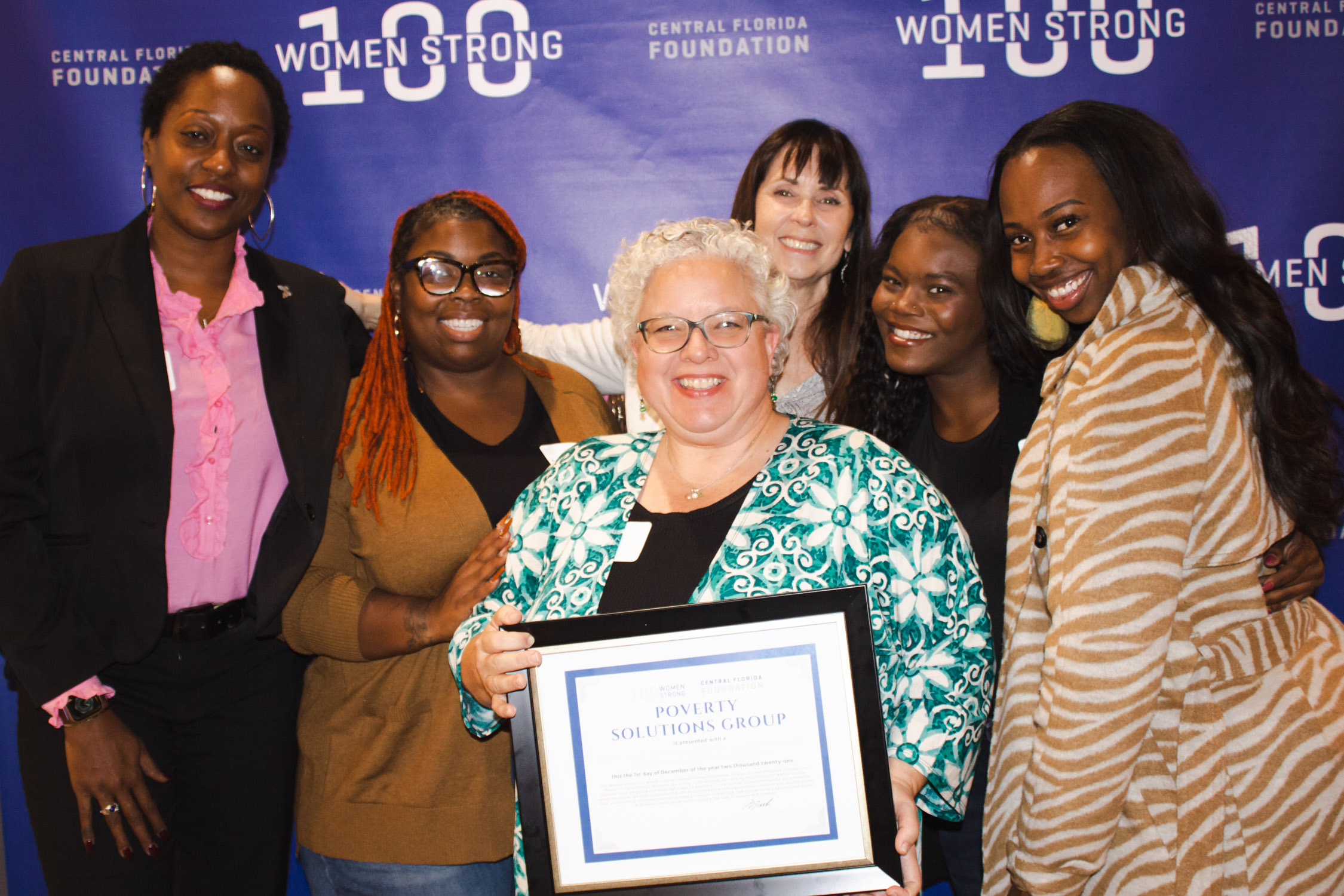 100 Women Strong invests up to $110,000 to help survivors of domestic violence achieve financial independence
Pilot project aims to help women avoid returning to an abusive relationship
Orlando, Fla. – March 10, 2022 – With financial abuse and coercion being leading factors in a woman's inability to leave a domestic violence situation, 100 Women Strong at Central Florida Foundation has partnered with Poverty Solutions Group (PSG) to help survivors of domestic violence reach financial independence and stability. The pilot project will span over two years with a total investment of nearly $110,000 from the 100 Women Strong Fund at Central Florida Foundation, with $75,000 invested in year one and a last-in matching grant of $34,625 in year two.
"In our research, we learned that 75% of women who go into emergency shelter for domestic abuse end up returning to their abuser due to lack of resources," said Renuka Sastri, chair of 100 Women Strong. "Realizing this startling statistic and recognizing the resources available in the community to change it, 100 Women Strong members agreed upon a three-year focus on economic empowerment for women, with this investment being the first and most timely due to the negative effects of the pandemic."
Poverty Solutions Group will enhance its existing Circles program to identify, protect and better serve participants that have experienced domestic violence. Carol Wick, domestic violence expert and president of Sharity Global, will work with PSG to implement an evidence-based training curriculum to improve the organization's and its volunteers' understanding of domestic violence.
"Central Florida Foundation believes in building a safe, thriving community for everyone," said Sandi Vidal, Central Florida Foundation's vice president of community strategies and initiatives and staff liaison to 100 Women Strong. "Poverty Solutions Group goes beyond managing poverty to actually helping people move out of the poverty cycle, and that is what will shift the trajectory for women and children that have experienced domestic violence."
The Circles® Campaign is a national, transformational approach to reduce poverty that partners volunteers and community leaders with individuals and families wanting to make the journey out of poverty. Circles participants, called Circle Leaders, are connected with Circle Allies, supportive volunteers often with their own lived poverty experience. Ultimately, as a result of this local pilot program, Circles programs throughout the country will be able to implement this model to better serve participants that have experienced domestic violence.
"Circles is unique because it is a long-term relationship-based approach," said Lynette Fields, executive director of Poverty Solutions Group. "Pairing strong financial literacy and innovative financial tools with a social network that continues over two years or more provides much needed time and support for survivors of domestic violence who also have limited income."
About 100 Women Strong
100 Women Strong at Central Florida Foundation transforms and elevates the lives of women and children in Central Florida through collective giving, collaborative grant-making and strategic philanthropy. The initiative leverages the power of a women's giving circle to identify root issues and create solutions in collaboration with community partners. 100 Women Strong is the area's only philanthropic effort that combines women's leadership with collective giving. Since 2006, 100 Women Strong has invested nearly $850,000 to address such issues as infant mortality, domestic violence, early education, food security, mental health, and more. Learn more at cffound.org/100-women-strong.
About Poverty Solutions Group
Poverty Solutions Group (PSG) is a Central Florida collaborative organization committed to sustainable poverty reduction. Based on emerging best practices, PSG empowers individuals and households to achieve economic stability and engages the broader community to address systemic barriers that perpetuate community-wide poverty.
About Central Florida Foundation
Central Florida Foundation stewards philanthropic dollars on behalf of individuals, families, and nonprofits. We partner with people who are determined to make a difference in their community. Knowing that true change demands more than dollars and cents, we foster collaboration, fuel ideas, and spearhead the innovation that will transform our region for good. Learn more at cffound.org.
###
CONTACT:     
Laurie Crocker
Director of Marketing & Communications
Central Florida Foundation
lcrocker@cffound.org | 407-872-3050 x111
Photo by: Emily Wray