December 21 2017 • CFF Team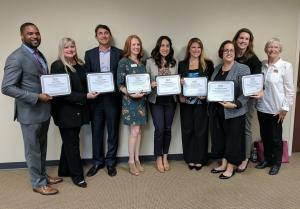 ORLANDO, Fla. — December 15, 2017 — Winter Park Community Foundation, an affiliate of Central Florida Foundation, today announces the grants from its annual grant round. The projects and nonprofits to receive grants include:
To qualify for the Winter Park Community Foundation grant round, nonprofits must be located in and serving the City of Winter Park, or its vicinity, and have a Reviewed profile in Central Florida Foundation's Nonprofit Search, an online database of information about nonprofits in Central Florida.
"It's rewarding to work with community members who are passionate about Winter Park, its history, culture and people," said Daisy C. Franklin, community investment manager at Central Florida Foundation. "Everyone learns a great deal about how philanthropy is more than a donation and is about investing in long-term efforts that will help build an organization's stability over time."
The grant round is supported by an advisory committee made up of volunteer community leaders. For the second year, the advisory committee partnered with Leadership Learners from the Leadership Winter Park Alumni Circle.
Committee members work with Central Florida Foundation staff members to design capacity-building grant recommendations to nonprofits in Winter Park, and the process concludes when the advisory committee presents the grant recommendations to Central Florida Foundation's board of directors for approval. Members on this year's committee included Jean Siegfried, David Torre, Alexis Pugh, Mark Freid, Rob Thomson, Rick Baldwin and Dr. Robin Roberts.
Sixty-eight of the 400 funds at Central Florida Foundation support the Winter Park Community Foundation. These endowment funds are permanent assets that were originally established by generous individuals who desired to help maintain and improve the quality of life in Winter Park. Their lasting contributions will help meet future needs that could not have been anticipated when the funds were established. While these individuals have since passed away, their legacies will continue on forever through careful investing and administration at Central Florida Foundation.
"There's nothing more important than hearing more voices from the community when making grants to the community," said Mark Freid, owner of Think Creative. "Central Florida Foundation's process for recommending and awarding these grants is spot on."
###
About Winter Park Community Foundation
Established in 1951 as the Winter Park Community Trust, administration of the Trust was transferred to the Central Florida Foundation in 1996. The Winter Park Community Foundation, now an affiliate of the Central Florida Foundation holds 68 individual and family grant-making funds established by local residents to enhance and support the quality of life in the Winter Park community. Its mission is to build philanthropic capital dedicated to improving the community's quality of life; strengthen the community's nonprofit organizations; and fund projects and programs offering new solutions to community needs.
About Central Florida Foundation
Central Florida Foundation is the place for people who want to invest in their community. The Foundation serves as the region's community foundation and is home to more than 400 charitable funds. The Foundation manages and invests funds, offers personalized service and expert giving advice, connects caring people, businesses, governments and organizations to local initiatives that build and inspire community, and empowers them to make informed decisions that make a difference now and in the future. The Central Florida Foundation works with individuals, families, businesses, professional advisors and nonprofits. For more information on the Foundation, please visit www.cffound.org.