November 22 2016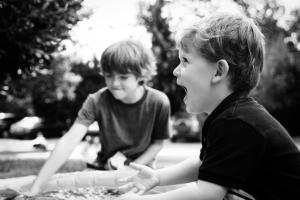 We had so much fun at our recent Connect Event. Connect Events are simple, relaxed and informal gatherings where we connect our fund holders to issues that matter in our community.
This event focused on early childhood development and how our children determine the quality of our community. We were excited to co-host the event with 100 Women Strong, one of our women's giving circles. The grant-making focus of the giving circle this year is early childhood development.
We learned all about how quickly infant brains develop and lay the foundation for life from Neil Boris, MD, Irving Harris Infant Mental Health Training Director at Florida State University, Center for Prevention and Intervention Policy. He is an Infant Psychiatrist. Neil made the case for why funding for early intervention provides a much greater return on investment than funding for programs for school age children up through job training in adulthood. If policy and funding could change to focus on early intervention our world would be a very different
place.
Deborah Pedraza, Senior Director at Foundation for Orange County Public Schools told us about the 30 million word gap and the reality that children from "at-risk" populations hear 30 million less words by the time they get to kindergarten due to the stressors like poverty facing their parents' lives. We were all blown away by this statistic!
Lastly, Mark Brewer, our president/CEO, shared more with us about the success of the Parramore Kidz Zone (PKZ), an initiative of the City of Orlando funded by the Legacy Trust for Orlando Children Fund at Central Florida Foundation. The mission of PKZ is to level the playing field for Parramore's children, equipping them to become successful, healthy, well-educated adults.
One of the successes that was shared since this initiative has been implemented is the PKZ Baby Institute at Early Learning Coalition of Orange County. The PKZ Baby Institute, modeled after the Harlem Children's Zone Baby College in New York, helps parents of young children (birth – age 5) build knowledge and skills to improve their children's school readiness. The curriculum focuses on brain development, language and cognitive development, discipline and pride in cultural heritage.
Since its start in 2011, 290 Parramore parents have attended the program and 191 have graduated.
We all left thinking about how can we take better care of the children in our community and set them up for successful, healthy lives?
We had an energizing morning catching up with friends, meeting new ones and learning about issues that are relevant to our everyday lives in Central Florida.
Click here to see pictures from the event.