February 20 2018 • CFF Team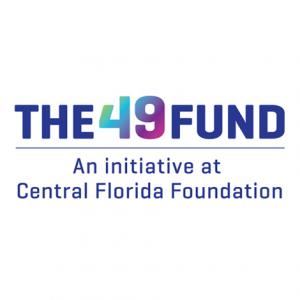 ORLANDO, Fla. – (February 20, 2018) – In its continuing effort to honor those lost in the Pulse tragedy, The 49 Fund at Central Florida Foundation is accepting applications for its second annual scholarship awards. The Fund will award up to 10 local LGBT students $4,900 each to help pay for college tuition.

To qualify for the scholarship, students must be self-identified as "out" and a member of the LGBT community, attend an accredited two- or four-year institution of higher learning on a full-time basis, earn a 3.0 GPA or higher, and demonstrate a commitment to making Central Florida a better place. Students can apply at www.The49Fund.org through Wednesday, March 21, 2018.
The 49 Fund at Central Florida Foundation was created in March 2017 in partnership between local attorney Barry L. Miller and the LGBT+ Center Orlando. In its first year, eight students were awarded $4,900 each.
"It's an honor for Central Florida Foundation to continue hosting The 49 Fund and supporting the educational goals of LGBT students in our community," said Mark Brewer, president and chief executive officer at Central Florida Foundation.
"I heard so many incredible stories during last year's application process that I can't wait to begin interviewing the next pool of scholarship candidates," said Barry L. Miller, president of The Closing Agent.
For more information and to donate, visit www.The49Fund.org. Checks should be made payable to Central Florida Foundation with "The 49 Fund" in the memo field and mailed to Central Florida Foundation, 800 N. Magnolia Avenue, Suite 1200, Orlando, FL 32803.
###
About Central Florida Foundation
Central Florida Foundation is the place for people who want to invest in their community. The Foundation serves as the region's community foundation and is home to more than 400 charitable funds. The Foundation manages and invests funds, offers personalized service and expert giving advice, connects caring people, businesses, governments and organizations to local initiatives that build and inspire community, and empowers them to make informed decisions that make a difference now and in the future. Central Florida Foundation works with individuals, families, businesses, professional advisors and nonprofits. Learn more at cffound.org.
About The Closing Agent
Serving Central Florida since 1993, Orlando-based The Closing Agent (TCA) is a full-service title and escrow agency that handles every step from contract to closing for both residential and commercial real estate transactions. With in-house professionals in real estate and corporate law, TCA clients benefit not only from the firm's ability to proactively identify issues that may arise during their transaction but also from its ability to resolve them in an expeditious and cost-effective manner. This expertise, coupled with TCA's ability to effectively integrate its services with those of its clients produces a seamless experience for buyers, sellers and their representatives. For more information, visit www.theclosingagent.com.
About The LGBT+ Center Orlando
Serving Central Florida for over 38 years, making it one of the oldest centers in the nation, providing community services that incorporates the following philosophies; serve as a sanctuary for all LGBT+ people, provide programs and services that empower, educate and entertain and to strengthen the intellectual, physical, social, emotional and spiritual well-being of the community. The Center seeks to build strong strategic alliances for increasing influence, improving communication and strengthening relationships between the LGBT+ community and the broader public. For more information visit www.thecenterorlando.org