October 25 2019 • CFF Team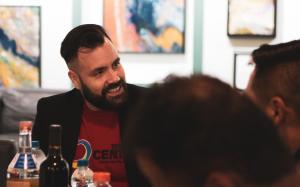 ORLANDO – OCTOBER 25, 2019 – Central Florida Foundation, the region's community foundation, launched the inaugural Table Talk event yesterday. The event's purpose was to initiate a community-wide conversation where all individuals have a seat at the table and a chance to be heard. At the first Table Talk yesterday, residents shared insights and ideas about the state of the region and their ideas for the future. The initiative gave citizens an opportunity to become more civically engaged in their community.
"It was an honor to participate in this community-wide conversation," said Shannon Gravitte, AdventHealth's vice president of public affairs. "By working together, we can craft meaningful solutions to improving our community's health – it's a responsibility we all share."
Local residents hosted tables of up to 10 people at their homes, local coffee shops, office spaces, schools, and other public places. Businesses and nonprofits that hosted multiple tables were registered as "Super Hosts", giving local employees and residents a chance to come together and share their thoughts with the community.
Many key organizations engaged as Super Hosts, including: Goodwill Industries of Central Florida, AdventHealth, The City of Eatonville, Orange County Public Schools, Second Harvest Food Bank of Central Florida, LGBTQ+ Center, Valencia College, Bros in Convo, and Parramore Kidz Zone.
Each registered host received a Host Toolkit, which included a step-by-step guide, tips for organizing a successful conversation, and resources to use during Table Talk. Conversation prompts included topics such as: what individuals like about their community, what they would change and why that is important, and what everyone at the table can do to help or contribute. The Host was then responsible for having their guests complete a survey at the end.
Central Florida Foundation, along with a third-party organization, Hart Research Associates, will gather the results of those surveys submitted by participants post-Table Talk. Feedback will be analyzed to identify key ideas, information and goals that emerge from those conversations, and the Central Florida Foundation will follow up with a report to highlight the priorities and thoughts gathered. Participants can also apply to the Central Florida Foundation for micro-grants starting in November for any ideas they discussed that would create change or improve the lives of Central Floridians.
"With Table Talk, we hope to inspire more residents of Central Florida to be involved in their community in seemingly simple but important ways that make change happen," said Mark Brewer, president/CEO of Central Florida Foundation. "We look forward to sharing the thoughts gathered in the survey with the community to keep the momentum going."
###
About Central Florida Foundation
Central Florida Foundation believes in the power of philanthropy and that thoughtful strategies, combined with a generous community, make Central Florida a place where everyone feels at home. The Foundation works with families focused on giving back, nonprofits and across public and private sectors to bring philanthropy to life. It all began in 1994 as a dream around a table of local, passionate people, and has grown to be one of the community's most trusted resources. Learn more at www.cffound.org.
Photo credit: Sophia Perez