April 09 2019 • Rachel Calderon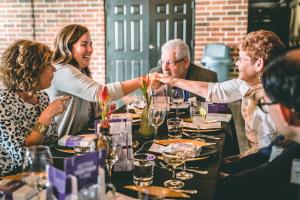 This spring we held our inaugural Table Talk event, where discourse was the main course. It was an incredible evening of new and familiar friends and powerful conversations. Here are a few of the overall themes that surfaced throughout the night:
Transportation - this issue came up at every.single.table. It's clearly something that affects us all in a multitude of ways. From congested roadways to standstill traffic and unreliable public transportation, there has to be a better solution.

Housing Affordability - With over 1,000 people moving to Central Florida every week, the cost of housing in Central Florida proves to be a primary concern across the board. It affects other issues our community faces like homelessness, the available talent pool, education, and more. CFF is pursuing forward-thinking solutions to begin to address these challenges through the establishment of the Parramore Asset Stabilization Fund and the Central Florida Regional Housing Trust. Curious on how to participate or invest? Let's talk about it.

Other themes included: education, safety, diversity, cultural activities, financial literacy, animals and the environment.

Let's keep these conversations going. We believe that conversations are the cornerstone of a strong community- this is where the change begins. If you're looking to keep the conversation going, let us know. In the meantime, save the date for the community wide Table Talk event on October 24, 2019.