April 06 2017 • Meghan Warrick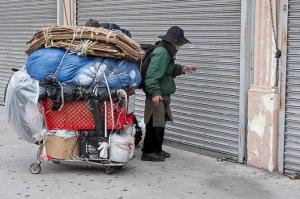 In our last post about homelessness, we discussed a housing-first approach that our community has adopted to end homelessness in Central Florida. This month, Meghan Warrick, our executive vice president and chief financial officer is sharing a more personal perspective on homelessness and how as individuals we can help…
Often times over the last several years, I have felt torn. I am torn between giving cash to the men and women we see on our street corners and contributing to the organizations that work to help them.
While driving around Orlando recently, I saw a gentleman walking through the stopped cars at a traffic light hanging his head and holding out a hat. The driver in the car next to me pulled money out of his wallet, lowered his car window, and gave it to the man. He seemed very happy with himself for his kind gesture. However, I did not give money to the man walking through the cars. In my mind I knew that I did not want to encourage him to hang out at that corner every day hoping to get money. But I drove away feeling guilty.
So, I ask you, what do you do when you are faced with that choice? What should you even do? What do the people in Central Florida that are working to end homelessness want you to do? I do not know the answers to these questions, but I am motivated to find out.
My motivation stems from an experience I had with my 11 year old son. While on a school field trip, he began to cry when he saw a group of homeless people outside of the Orange County Regional History Center. As a quick response to his tears, a parent chaperone prayed with my son and they asked for help for the homeless people that they saw. Still, my son was devastated that there was no immediate way to help.
With that, what should we do when we see someone on the streets here in Central Florida? Many of us support organizations that provide services to homeless individuals. Is that enough? Should we give money to the person we see on the street corner, should we take them to get something to eat or should we do nothing? In pursuit of finding an answer, I asked a few friends and colleagues for their input and here is what I heard:
Give cash because it costs money to stay in a shelter
Call 2-1-1 to help connect someone to services
Contribute to a nonprofit organization that provides services and housing
Use Nonprofit Search to find local nonprofits
Keep in mind that list does not include every possible option and you might have others to add that coincide with your lifestyle, but this is a starting point. I believe that if we work together, in big and small ways, we can end homelessness in Central Florida for good.
Meghan Warrick is the Executive Vice President/Chief Financial Officer at Central Florida Foundation and is mom to two boys, Aiden (11) and Liam (6).

Photo credit here.