June 27 2018 • Dewey Wooden, LMHC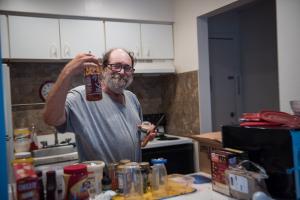 It all began in 1996. Struggling to battle a chronic mental illness, Richard had become disillusioned with life, and at 45-years-old, he packed a 100-pound bag of gear and walked away from his life. He left a successful catering business, his wife of eight years, and the children he had helped to raise as his own.
From Richard's home in Ohio, he set out on foot to Southern California. Nearly three months and six pairs of sneakers later, he had arrived. Once in California, his stay was shorter than he originally expected. He shared that he hadn't found what he was looking for, and from there, he hopped on a bus to Key West, FL in search of solitude.
There he remained alone and homeless for the next ten years.
Over time, the tropical weather became too much for him to bear. Richard decided to wander north where he arrived unceremoniously in Orlando, FL, and quietly began to make a life for himself.
After much searching, he settled on a secluded spot underneath a footbridge at Lake Lucerne, where he slept, often accompanied by ducks from the lake whom he considered his "friends." Due to Richard's illness, it has always been difficult to be around others and cultivate lasting relationships – he preferred
to be alone in the company of books.
As Richard settled in, he became well-known to passers-by. Every day he would walk to Lake Eola to read voraciously for hours before walking to his second favorite reading spot under the 408 at Rosalind Ave. and Anderson St.
Along the way, Richard met the permanent supportive housing team at Health Care Center for the Homeless. The team provided health care services to Richard and introduced the idea of a home of his own. When asked about his housing preferences, he stated he only wanted a quiet place to read and to cook.
Looking back over his time on the streets, Richard takes great pride in the fact that he never solicited people to help him make his way in the world. However, he shared that many people in Orlando showed him great kindness and generosity during those years.
Richard was housed in early 2016 and while he continues to make his way to Lake Eola most days, he admits that sometimes it is "nice to just stay home and read a good book."
Dewey Wooden, LMHC is the director of behavioral health at Health Care Center for the Homeless (HCCH). HCCH focuses on providing primary healthcare, behavioral health, and dental services to the homeless, indigent, and under-insured population of the region. Through an investment from the Homeless Impact Fund at Central Florida Foundation, HCCH has been able to add supportive housing services to its list of services offered.

Photo of Richard in his new kitchen © Judy Watson Tracy 2018