June 06 2018 • CFF Team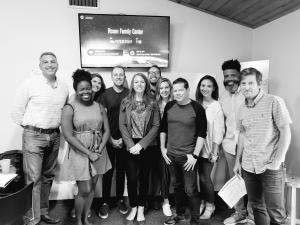 ORLANDO, Fla. – (June 6, 2018) – Rally: The Social Enterprise Accelerator today announces the six finalists to participate in its summer cohort. The six enterprises include: Yaupon Brothers Tea, Visable, Front Row Charities, Playground City, Nexus Impact, and Orlando Together.
Rally received applications from nonprofit and for-profit entities. The pool of applicants was narrowed down with input from contributors to Rally.
"We are excited about these companies and their potential to make a real impact," said chief operating officer of Rally and founder of Downtown Credo, Ben Hoyer. "We know Orlando is the right place for social enterprises to learn, grow, and connect to resources."
Each of the participants will receive 16 weeks of individualized mentorship, tailored curriculum, access to a world-class network of experienced entrepreneurs and professional services to help grow their companies and prepare for the pitch event in September 2018. At the pitch event, the participants will compete for an opportunity to receive a $25,000 investment or grant, depending on the structure of the enterprise. The program began this month.
"As curriculum designers, we value playful education and believe in using community assets to further learning," said Kelsey Kerce executive director at Playground City. "Rally gives us the opportunity to be the learner in a program that is structured around utilizing Orlando's assets and experts while moving towards a more sustainable business model."
The first program of its kind in Central Florida, this initiative helps social entrepreneurs in the early stages of product or business development. Participants interact with mentors to advance a business model that achieves a "double bottom line" – delivering tangible results and solving social challenges.
The program is structured as an initiative of Central Florida Foundation in partnership with Downtown Credo, the Crummer Graduate School of Business at Rollins College, Clean the World, City of Orlando, and EIA (Entrepreneurs in Action). It is headquartered at the Rosen Family Center at Rollins College in Winter Park, Florida.
"We continue to be excited and inspired by the quality of the social enterprises emerging here in Central Florida," said Rob Panepinto, chief executive officer of Entrepreneurs in Action and board chair of Central Florida Foundation. "We look forward to helping these companies scale through our work at Rally."
On March 15, 2018, Omnimodal was selected for a $25,000 investment at the inaugural pitch event. Omnimodal works to make public transportation easier for everyone by providing real-time data to existing transportation apps. Omnimodal competed with seven other local ventures during the pitch event.
For more information, visit www.cflsea.com. Follow the cohort on Rally's social channels: Facebook, Twitter, and Instagram.
###
About Central Florida Foundation
Central Florida Foundation is the place for people who want to invest in their community. The Foundation serves as the region's community foundation and is home to more than 400 charitable funds. The Foundation manages and invests funds, offers personalized service and expert giving advice, connects caring people, businesses, governments and organizations to local initiatives that build and inspire community, and empowers them to make informed decisions that make a difference now and in the future. Central Florida Foundation works with individuals, families, businesses, professional advisors and nonprofits. Learn more at cffound.org.
About Rally: The Social Enterprise Accelerator
Rally: The Social Enterprise Accelerator's mission is to create positive social change by propelling qualified social entrepreneurs to build their ideas into self-sustainable ventures within our community. We work with social entrepreneurs in the early stages of developing their product or business who are
looking for help or guidance. Learn more at cflsea.com.
About the Crummer Graduate School of Business and Rollins College

The Crummer Graduate School of Business at Rollins College is a graduate school distinguished by its renowned faculty, intimate class size and applied approach to learning. It touts top MBA rankings from Bloomberg Businessweek and Forbes magazines and is among a select group of business schools carrying AACSB International graduate-level accreditation, including the first accredited Executive Doctorate in Business Administration program in the state. Founded in 1885, Rollins College is Florida's oldest college. Located in Winter Park, near Orlando, Rollins is consistently ranked as one of the top regional universities in the South by U.S. News & World Report. Rollins serves approximately 3,200 degree-seeking students annually. For more information, visit www.rollins.edu.