April 16 2019 • CFF Team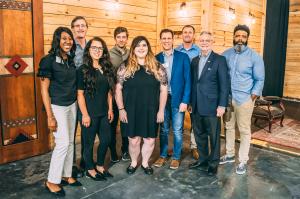 ORLANDO, Fla. – (April 16, 2019) – In an effort to create positive change by supporting social entrepreneurs, Rally: The Social Enterprise Accelerator selected Tambua Health as the best of its winter class. This selection will send the venture to Entrepreneurs in Action, a partner impact investment fund, with a strong recommendation for a $25,000 investment.
The company will use the funds to further their social mission of providing a software application that helps medical practitioners quickly and accurately diagnose respiratory diseases through the analyzation of cough samples.
BatterEASE will also receive a $10,000 grant from the Rally: The Social Enterprise Accelerator Fund at Central Florida Foundation. The grant will help BatterEASE to continue its
mission of providing full service e-waste recycling and collection program for businesses and municipalities in Orlando and throughout the state of Florida. Through certified recycling partners, the company ensures that anything that can be reused is refurbished, and recyclable components are broken down properly.
There were two other participants in the showcase on April 10 and their focus areas included:
Community Connections Transportation

- a network of independent contractors who serve seniors and the transportation disadvantaged and have the ability to use their own personal vehicle while helping out the community to get from Point A to Point B. The premium is not on the car but instead on the service provided to the riders.

"I leave every four-month class so energized by the passion and tenacity of these entrepreneurs and thrilled with the work we get to do," said Ben Hoyer, chief operating officer of Rally and founder of Downtown Credo. "With just four ventures in four months we are able to help build strategies to address real problems with the environment, health, whole-life wellness and transportation for our aging population. I'm very proud of these companies and honored to support them through Rally."

Rob Panepinto, chief executive officer of Rally and Entrepreneurs in Action added: "Rally has grown tremendously since its inception. Now one of the top social accelerators in the
country, many of the ventures that graduate from our program have gone forward to receive further investment and business opportunities because of the process. I could not be prouder to help put Orlando on the map as a hub for social enterprise."
###
About Rally: The Social Enterprise Accelerator
Rally: The Social Enterprise Accelerator's mission is to create positive social change by propelling qualified social entrepreneurs to build their ideas into self-sustainable ventures within our community. We work with social entrepreneurs in the early stages of developing their product or business who are looking for help or guidance. Rally was launched in 2017 by Central Florida Foundation, Entrepreneurs in Action, Rollins College and its Crummer Graduate School of Business, Downtown Credo, Clean the World and City of Orlando. Learn more at rallysea.com.
About Central Florida Foundation
Central Florida Foundation believes in the power of philanthropy and that thoughtful strategies, combined with a generous community, make Orlando a place where everyone feels at home. The Foundation works with families focused on giving back, nonprofits and across public and private sectors to bring philanthropy to life. It all began in 1994 as a dream around a table of local, passionate people, and has grown to be one of the community's most trusted resources. Learn more at www.cffound.org.