March 16 2018 • CFF Team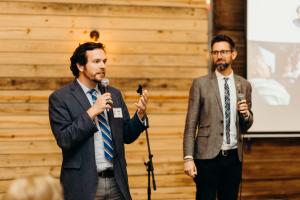 ORLANDO, Fla. – (March 16, 2018) – In an effort to create positive change by nurturing local social entrepreneurs, Rally: The Social Enterprise Accelerator recently awarded a $25,000 investment to Omnimodal. The company will use the funds toward its mission of making public transportation easier for everyone. Omnimodal competed with seven other local ventures during the Accelerator's inaugural pitch event on March 15.
"We are humbled to have been awarded this investment money," said Nathan Selikoff, co-founder of Omnimodal. "There were seven other great social enterprises the judges could have chosen."
David Moran, co-founder of Omnimodal, added: "It's thrilling to have folks believe in our work to make transportation easy for everyone. This is our dream job, and real-time information is a critical tool for combating transit inequity."

The first program of its kind in Central Florida, the Accelerator was launched in 2017 by Central Florida Foundation, Entrepreneurs in Action, Rollins College, Downtown Credo, Clean the World and City of Orlando. The program provides training, mentorship, education, legal advice and investment to social entrepreneurs seeking to tackle social, environmental and economic challenges through their work while earning revenue.
The other participants and their focus areas are as follows:
The Mustard Seed of Central Florida - recycling mattresses and creating jobs
Outcome Funding - automating development coaching
Florida Abolitionist - equipping companies to stop human trafficking
HEBNI (Health Empowerment through Behavioral and Nutritional Initiatives) - educating people to eat well
Snapgood - removing barriers in volunteering
Ecospears - decontaminating soil and waterways
Fleet Farming - disrupting food supply with local micro-farm plots
"This was a difficult decision, because all of the entrepreneurs impressed us with their commitment to helping solve social issues while earning revenue," said Ben Hoyer, president and COO of Rally and founder of Downtown Credo, a donation-based coffee shop. "We're confident that this investment will advance Omnimodal's focus to enhance the quality, efficiency and reliability of public transportation."
Rob Panepinto, CEO of Entrepreneurs in Action and board chair of Central Florida Foundation, added: "As Orlando becomes a hub for social enterprise, we're excited to invest in Omnimodal to help them get to the next level. We look forward to seeing their continued success."
###
About Central Florida Foundation
Central Florida Foundation is the place for people who want to invest in their community. The Foundation serves as the region's community foundation and is home to more than 400 charitable funds. The Foundation manages and invests funds, offers personalized service and expert giving advice, connects caring people, businesses, governments and organizations to local initiatives that build and inspire community, and empowers them to make informed decisions that make a difference now and in the future. Central Florida Foundation works with individuals, families, businesses, professional advisors and nonprofits. Learn more at cffound.org.
About Rally: The Social Enterprise Accelerator
Rally: The Social Enterprise Accelerator's mission is to create positive social change by propelling qualified social entrepreneurs to build their ideas into self-sustainable ventures within our community. We work with social entrepreneurs in the early stages of developing their product or business who are looking for help or guidance. Learn more at cflsea.com.
Photo by Emiley Jones Photography, www.emileyjones.com