February 14 2017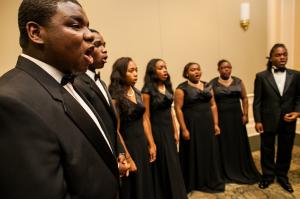 Edna S. Hargrett was the beloved director of the well-known Jones High School Choir. She taught school for 44 years with 33 of those years spent at Jones High School helping countless students achieve performance excellence. She made participation in the choir feel like being a part of a big, close-knit family with big open arms. Thankfully, her passion for helping students reach success lives on even after her passing.
In 1999, an anonymous donor established the Edna S. Hargrett Fund at Central Florida Foundation to honor the life and legacy of Mrs. Hargrett. The endowed fund provides scholarships for Jones High School students to attend college and also supports the Choral Music Program at the high school.
Thanks to donors that planned ahead, the legacy of Ms. Hargrett and other community members that were passionate about students in our community will live on forever. Their legacies continue through endowed scholarship funds at the Foundation that are permanently community assets. The funds open the door for students to pursue higher education every year and will continue to do so forever. A little planning now can go a long way in helping students achieve their educational and professional goals. They can have the opportunity to create a life they are proud to live.
Central Florida Foundation administers 9 endowed scholarship funds and has awarded nearly $1 million in scholarships to 524 students since 1996. Students have pursued a variety of careers in accounting, bio-medical science, political science, business administration, medical assistant, culinary arts, digital audio productions, 3-D animation technology, cosmetology and more. Learn more here.
Pictured: The Jones High School Choir sings at our 20th anniversary celebration in October 2014.