June 19 2015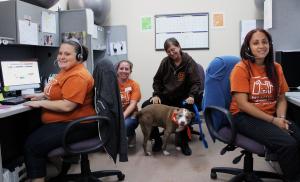 Through more than 400 funds the Central Florida Foundation distributes grants that provide essential funding in areas like education, arts and culture, environment and animals, health and human services and religion. The Foundation uses its deep community knowledge to connect caring people with organizations and causes that they are passionate about and to make stronger giving decisions.
The Foundation recently committed $25,000 through a "last-in" matching grant to help purchase a new phone system and call center for the Pet Alliance of Greater Orlando. The organization raised an additional $30,000 through its own donors in order to secure the matching grant.
The grant was distributed through the 2014 Community Investment Grant Round, which is part of the Central Florida Foundation's effort to educate the next generation about investing in nonprofits. Students in the "Philanthropy, Fundraising, and Social Entrepreneurship" master level course in the School of Public Administration at the University of Central Florida team up with mentors from the Foundation. The students use Nonprofit Search to research nonprofits and present grant recommendations to the Foundation's board of directors for approval.
The grant came from the Rex V. Stevens and Dulciza Fund, an endowed fund that was set up in 2000 by Rex and Dulciza (Suzie) Stevens, who were long-time residents of Orlando. The couple left their estate to the Central Florida Foundation and income from their fund is directed primarily to benefit animals and the elderly population, specifically for their care, comfort and support.
As the "go to" experts, Pet Alliance of Greater Orlando provides animal sheltering, affordable veterinary care, "meals on wheels" for dogs and cats and community education, helping tens of thousands of animals across Orange, Seminole and Osceola counties. More than 400 pets seek refuge and safety in its animal shelters every night, and the organization provides soft beds, nourishing food, enrichment and expert animal care to individual animals.
"The grant from the Central Florida Foundation helps us to complete needed infrastructure upgrades that include purchasing a new telephone system and creating a centralized call center," said Kerri Burns, president. "Improving our ability to receive and process phone calls from citizens who are trying to obtain information about pet care or help animals in need is a critical part of our capacity building and creating humane communities."
The telephone system at the Pet Alliance of Greater Orlando was installed during the 1970's and had not been updated. In addition both locations in Orlando and Sanford were not tied together.
"This year has been an exciting time of capacity building at the Pet Alliance of Greater Orlando," said Sean Hawkins, director of marketing and philanthropy. "We have modernized computers, installed animal shelter tracking software to manage the needs of our shelter pets, and deployed the Raiser's Edge constituent management system to better interact with our supporters. Installing a new telephone system is the last infrastructure piece that we need to keep us on the right path for the future of helping pets in our community."
The Customer Care Center went into operation in November of 2014 and immediately produced positive results for the organization and all the customers it serves. The purpose of the customer care center is to provide a "one-stop-shop" when customers call about a dog or cat, for either location, and provide an efficient resolution to any request at the point of contact.
The Customer Care Center is taking ownership of all customer concerns and ensure that they receive a timely response and resolution to requests about pets.
One customer named Melody after she was provided with service recovery wrote, "Mr. Jim, a note of thanks for a job well done! Thank you too for the personal care… you are an asset to the Pet Alliance."
The Central Florida Foundation is the place for people who want to invest in their community. The Foundation serves as the region's community foundation and is home to more than 400 charitable funds. The foundation manages and invests funds, offers personalized service and expert giving advice, connects caring people with charitable organizations and empowers them to make informed decisions that make a difference in the community.
"Over the last 20 years, the Central Florida Foundation has grown to be the region's most trusted philanthropic home that exists to strengthen our community," said Mark Brewer, president and CEO. "We support nonprofits that use the investments to improve their organization's performance, effectiveness,
impact, and overall sustainability."
Learn more about Pet Alliance of Greater Orlando in Nonprofit Search. Click here.