November 02 2017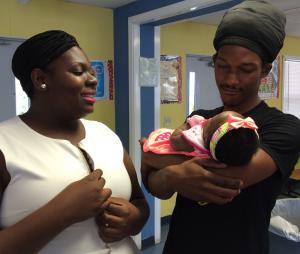 Parents of young children who live in the Parramore Heritage Neighborhood face challenges similar to those of all young families everywhere. Some are caught by surprise and unprepared for the arrival of an infant. Many are ill equipped and have little knowledge of the skills they'll need to cope with their responsibilities as new parents. Unfortunately, babies do not come with instruction manuals and Early Learning and Child Development are simply not courses routinely taught in school. As a result, most new parents-to-be know little about how to give their children the early developmental advantages in those formative years before kindergarten that are so crucial to setting them on the path to success in school and life.
Now, add to those universal challenges the ones that are unique to neighborhoods like Parramore: poverty, crime, limited education, and the daily desperation to simply make ends meet. The urgent need for a community-wide solution becomes readily apparent.
The key to building stronger communities always starts with children. Foster an environment that empowers new parents and nurtures children to develop bright, inquisitive, active minds and bodies. Build a "safe zone" for the community to do that critically important work and you are on your way to creating a solution.
In Parramore, that solution is called the Parramore Kid Zone (PKZ), and for young children in Parramore, the solution is PKZ's Baby Institute. Baby Institute is focused on strengthening parents in their role as child's first teacher. Parents who understand how to be responsive help children build resilience and self-regulation over time. PKZ levels the playing field for Parramore's children, equipping them to become successful, healthy, well-educated adults. Modeled after the successful Harlem Children's Zone in New York City, Parramore Kidz Zone aims to reduce juvenile crime, teen pregnancy, child abuse and neglect, and high school drop-out rates in Orlando's highest poverty, highest crime neighborhood. PKZ is achieving this by investing in things that make a difference in children's lives, from cradle to college and career.
Central Florida Foundation is the trusted philanthropic home for the Legacy Trust for Orlando Children Fund that supports programs that are part of PKZ like the Baby Institute and others that provide quality early childhood education, after school programs, programs that build family economic success, youth development programs for teenagers, access to health care, mentoring and more. The Foundation handles everything from the administrative details to monitoring the outcomes.
"2016 marks the ten year anniversary of Parramore Kidz Zone, and Central Florida Foundation has been with us every step of the way," said Lisa Early, Director of Families, Parks and Recreation for the City of Orlando. "In fact, PKZ might never have happened were it not for CFF stepping up in 2006 to administer a grant from the Robert Wood Johnson Foundation that created this important program. This has been a remarkable partnership from the very start, and it shows what we can do when all institutions in our community – government, business, non-profits, faith and philanthropy – come together to make Orlando a better place for children."
Decades of research in child development show how important the early years are to a child's long term academic, social and economic success, beginning at birth, when the human brain begins to be wired. The connections inside a child's brain develop through constant stimulation – listening to language, exploring objects, engaging in visual, verbal and physical interaction with other human beings. Why's that important? Because in the brief span of person's first 2,000 days of life, he or she will build the basic brain infrastructure needed to succeed in school and later in life. "90% of a child's brain architecture is developed by age 5, said Karen Willis, chief executive officer of the Early Learning Coalition of Orange County. "While others might provide support, parents are so instrumental to the foundation of the brain as they are indeed their child's first and best teacher."
The PKZ Baby Institute provides a comprehensive program for parents and their children. A typical day involves childcare, classes and workshops, breakfast and lunch and of course, books. Plenty of books. Parents learn about child safety and child behavior…How to communicate with their babies and stimulate them…About language development and overall brain development…health and nutrition. They have access to sessions on journaling, reflection, and goal setting. Asha is a young mother who made the most of everything the PKZ Baby Institute has to offer. She was a college student who had plans for her life and goals already set. Raised by a single mother, she knew the sacrifices that came with being a single parent. And, much as she loved and admired her mother, no way did she see that path for herself.
Until, in the second year of college, Asha discovered she was pregnant. "I was in disbelief about my pregnancy. I had so many life plans and being pregnant wasn't one of them."
Asha was depressed about her pregnancy and saw nothing in her future but a reflection of the difficulties she'd seen her mother go through. "I didn't plan on my life going in this direction. I never wanted to be a single parent because I knew how hard my mother had struggled." As an office worker whose job was providing assistance to needy families day after day, Asha never saw herself on the other side of the desk. She never thought she would need services from the PKZ Baby Institute. Yet, here she was. She did enroll and is more than glad that she did.
The experience gave her a new perspective on the sacrifices her mother managed for so many years; how her mother created a positive environment for her from limited resources. Today, she is able to use that as inspiration and hope for her own situation. PKZ Baby Institute has given her confidence in her parenting abilities and more.
"PKZ has taught me to be confident and positive about my parenting ability. I've learned that two important keys to being a good parent are sacrifice and time."
She has no illusions about what the future holds for her as a single parent. But the PKZ Baby Institute has proven invaluable. "I am glad I enrolled in the Baby Institute and that these services are offered to pregnant women. I am more prepared now to parent my son and need all the help I can get." She even came away from her experience with an armful of children's books and other resources. "My son has a wonderful library full of books before he's even born!"
Future goals for the Baby Institute include finding a new location within Parramore, adding to the numbers of children enrolled in PKZ Child Care, expanding the role of the program in the lives of program alumni—and, should PKZ expand into additional Orlando neighborhoods, expanding the Baby Institute as well.
"We are so proud of the parents who have graduated from Baby Institute," said Willis. "Their commitment to their children is truly an inspiration to every Orange County family."