May 31 2017 • Rachel Calderon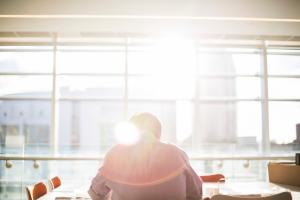 We had an exciting and engaging Social Enterprise Connect Event on May 24th. This event focused on social enterprise and how this growing trend in our community is changing the way nonprofit organizations and traditional endeavors do business. We would like to extend a special thank you to Orlando, Inc. for allowing us to host the event at the Chamber of Commerce Building.
First, we heard from Ben Hoyer, the founder of Downtown Credo. He shared an inspiring talk about how he came to Orlando with his wife and kids, decided to put down roots, and began imagining who he wanted to be, but wasn't sure how to get there. So, he decided to start small and began picking up trash in Parramore. He knew he wanted to make an impact for good and thought, "the place ought to be different because I'm here." From this belief, Downtown Credo was born, a donation based coffee shop. Credo has now expanded into four locations and continues to give back to the community in big and small ways.
Credo's Rally division, devoted to supporting start-up social entrepreneurs is now evolving into something new.
Rob Panepinto, president of Florentine Strategies, board chair of Central Florida Foundation and the Central Florida Social Enterprise Accelerator, described how Rally has evolved into the new Central Florida Social Enterprise Accelerator.
The accelerator launches later this month (stay tuned for an announcement!) and could not come at a more perfect time. The accelerator is a way for entrepreneurs that have a social mission to take their business to the next level with education, mentors, and resources. This effort is positioned to designate Central Florida as a hub for social enterprise in the United States and to promote economic development in our region, specifically for under-served populations when it comes to entrepreneurship, like women and minority groups.
Being that the Accelerator will work with nonprofit and for-profits, we invited Dan Devine and Lee Nasehi of Lighthouse Works! to share the example of their organization and how adding a social enterprise arm has benefited the work of the nonprofit, Lighthouse Central Florida, a nonprofit that serves individuals with blindness and vision loss.
There are many benefits to the addition of Lighthouse Works! including increased earned revenue to the nonprofit and another economic development pieces. What was most impressive is that the organization is producing some of the most highly skilled employees in the region that perform tasks more efficiently than individuals without blindness or vision loss!
We all left energized, excited, and ready to support social enterprise right here in Central Florida. If you'd like to get involved there are multiple ways: invest in the Central Florida Social Enterprise Accelerator and be directly involved with its efforts or refer nonprofits or for-profits to apply when applications open at the end of June. If you have something else in mind, let us know.
Stay with us for an exciting update about the launch of the Central Florida Social Enterprise Accelerator the week of June 19 – we can't wait to share this news with you!