September 01 2016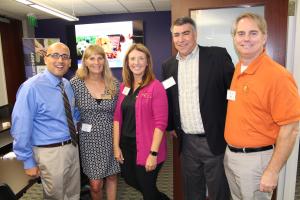 We had a great time yesterday at our very first Connect Event. Connect Events are simple, relaxed and informal gatherings where we connect our individual and family fund holders to issues that matter in our community. Our first event was all about animals - pets, bears and more - and current issues that affect our lives related to these furry friends. Our special guests included the Central Florida Zoo & Botanical Gardens, Pet Alliance of Greater Orlando and Attorney and Animal Advocate Peggy Hoyt, The Law Offices of Hoyt & Bryan. We learned all about black bears from Stephanie Williams, the Director of Education at the Central Florida Zoo, including why they are venturing into residential areas, what attracts them and what to do if you encounter one. Stephen Bardy, executive director, and Fraily Rodriguez, chief of operations, from Pet Alliance of Greater Orlando told us about how they work to address the issue of pet overpopulation in our community and what it means to be a truly pet-friendly community. Lastly, animal advocate Peggy Hoyt of the Law Offices of Hoyt & Bryan, helped us think about pet planning for our disability and eventual death and also natural disasters. We all left thinking about who would care for my pet in the event I'm not able to?

We all had a fun afternoon catching up with friends, meeting new ones and learning about issues that are relevant to our everyday lives in Central Florida. If you're an individual or family fund holder that wasn't able to make this Connect Event, save the date for the next one on November 14th. We will be in touch with more details!
Click here to see more pictures.