May 15 2015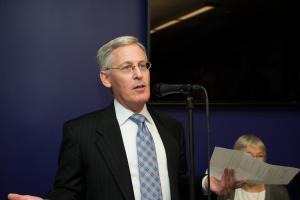 We recently celebrating moving into our new home with our fund holders, board members and community partners, and we are so excited about what happened that we want to share it with you.
Connecting Your Passion to Impact
Our past board chairman Marty Rubin kicked things off by recognizing our former, current and new board members and introducing Jean Siegfried, a member of 100 Women Strong.
Jean talked about how 100 Women Strong recently focused on the Evans Community School to address food security and nutrition, which are building blocks to children's development and learning. The members of 100 Women Strong make an annual gift to a pooled fund at the Central Florida Foundation and identify where the grants go back into the community.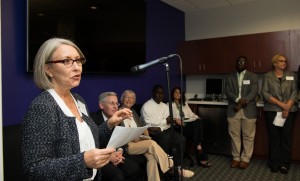 Karen Broussard from Second Harvest Food Bank shared more information about the Nutrition and Culinary Arts Training program with Evans High School. The program was a nine-week hands-on culinary and nutrition enrichment program, made possible by a from 100 Women Strong, that took place in the Darden Foundation Community Kitchen. Jenny Gibson-Linkh, Principal at Evans High School, also told us how the students learned how to share space, ingredients, ideas and their love for food. They were excited to show off their culinary dishes, but most of all they were excited to feed their brothers, sisters and moms and dads with food they cooked as part of the program.
The results to date have been amazing and here are just a few:
- 100 percent of the students felt more confident after attending the program
- Nutrition and culinary knowledge increased by 30 percent
- 84 percent of the students felt the program helped prepare them in making decisions
Jarvis Wheeler, Director of the Evans Community School, introduced Evans High School student and program participant, Orlando Gray. Orlando shared his personal experiences about participating in the program.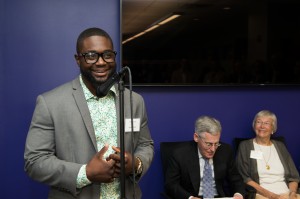 Our Knowledge Is Your Giving Wisdom
Lyn and David Berelsman shared their story about moving to Central Florida from Sydney, Australia and how the Central Florida Foundation introduced them to civic opportunities as they like to call themselves professional community volunteers. They established a non-endowed advised fund that allows them to support the Cancer Library at Florida Hospital in Celebration. It allowed them to provide seed money for the Central Florida Foundation's Women in Philanthropy Initiative as well.
They shared how their motto has always been "Have fun, make money and do good." The Central Florida Foundation offered them a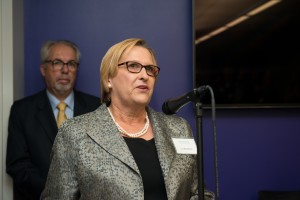 fast track to philanthropic involvement by introducing them to giving opportunities that they wouldn't have known about otherwise.

Create a Legacy That Will Benefit Our Community In the Future
Our new board chairman Rob Thomson talked about how the Central Florida Foundation is the place for people who want to invest in their community.
Building community by building philanthropy is everything from changing the lives of high school students through experiences like the culinary class to creating a family legacy like Lyn and David, all the way to helping lead social enterprise in our community.
The Central Florida Foundation leads community initiatives of engaged and invested individuals who want to improve the quality of life in the community—initiatives like Entrepreneurs in Action, the Winter Park Community Foundation, student-led grant-making in collaboration with the University of Central Florida, women's giving circles and the Tri-County Legacy Fund.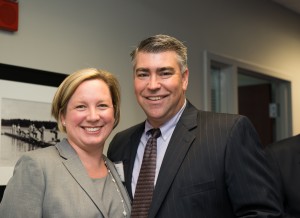 Rob closed by sharing information about our newest fund, a Homeless Impact Fund, in partnership with the Central Florida Commission on Homelessness.
The fund was established to allow our community the opportunity to invest in solutions that help reduce chronic and family homelessness. We are focused on a new approach, with proven results from around the country, which will make a difference in the lives of homeless individuals in Central Florida.
The evening ended with Mark Brewer and our staff offering a tour of our new home and guests were able to learn more about Nonprofit Search.
Let's Build Community by Building Philanthropy together! Contact us to connect your passion to impact.