November 08 2017 • Rachel Calderon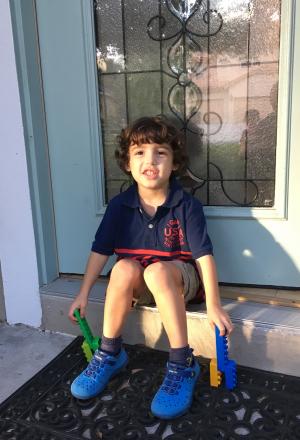 Last week, we celebrated National Philanthropy Day to honor those individuals and nonprofits that dedicate themselves to serving others.
It's an early start to the day, but the coffee is strong, and it serves as a worthwhile time to meet new faces and reconnect with friends in the field. The breakfast is always a special day for our team as we award the Kenneth F. Murrah, Esq. Award for Outstanding Philanthropist to someone in our community who embodies the spirit of Mr. Murrah through community engagement, leadership and philanthropy.
Mr. Murrah was a jewel in the Winter Park community, which he dearly loved. He left a lasting impression on me from my early days working with the Foundation until now. Inspired by his legacy, I've frequently asked myself the question, "What more can I do?"
While enjoying the breakfast, honorees and speakers, I couldn't help but hear this question pop into my mind again.
Over this past year, I've faced a challenging road as a parent. My son, Christian (pictured above), was diagnosed with autism, and even though I knew it was coming, it still hit me like a semi-truck when the doctor handed me the signed diagnosis letter. There was no more guessing or filling out child development surveys online late at night. It was official – and the journey was just beginning.
While this experience has had many twists and turns, and will never be over, it has been so eye-opening and rewarding. The many therapists and teachers in our life have become part of our family, and for that I am forever grateful. I'm passionate about early childhood intervention because I've seen its remarkable power first-hand.
When I think about my experience and ponder the question of "what more can I do," I've found that my first step is to encourage and support other moms facing a similar situation. I want to make autism and its challenges part of our common vocabulary. This is the very beginning of my philanthropy journey, but I'm ready to make it grow, in hopes that I can help our society place a greater emphasis on early childhood intervention.
This brings me to philanthropy or "giving back," and the idea that it strikes us all in different ways. Sometimes it's very personal, and other times, we stumble into it by accident. It starts small, and over time it grows. Most importantly, I'm finding that we don't need all the answers right away. But, we can take the first step and connect to start a conversation.
For each of us at Central Florida Foundation, philanthropy is what gets us out of bed every day. As the region's community foundation, we pride ourselves in helping turn an individual's or family's vision for changing the world into reality. We'll work with you to develop wise giving strategies that result in long-term change. And, we share your vision for a better community, so take the first step and let's get the conversation started.
Learn more at cffound.org/giveonpurpose.