September 12 2015 • Rachel Calderon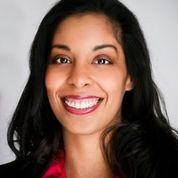 In 2014, Esperanza Perez was awarded a scholarship from the Beatrice B. Ettinger Scholarship Fund at Central Florida Foundation. She graduated from the University of Central Florida Burnett Honors College this past May with a degree in Accounting and Finance. She is currently an intern at KPMG.
The Beatrice B. Ettinger Scholarship Award was established in 1988 by the Council for Continuing Education For Women of Central Florida, Inc. The Award was established to honor one its founding members, Mrs. Beatrice B. Ettinger, who dedicated her life to the improvement of the quality of life for women. Thousands of women have been inspired and motivated by Bea, as she is respectfully known. She passed away on June 29th of this year.
The Beatrice B. Ettinger Scholarship Fund was established at the Central Florida Foundation on December 31, 2013 with the purpose to assist women in Central Florida with continuing their education, either vocationally or professionally. Keep reading to learn about Esperanza's inspiring story.
What made you go back to school?
At the age of 17 I had my first daughter and for the first four years I raised her on my own until I met my current husband. We struggled a lot and this is one reason I waited to return to school because we both had to focus on working and supporting our growing family. In 2008 my husband was in a motorcycle accident that left him disabled and caused extreme financial burden on our family because I became the sole provider. After 19 surgeries and really no change in his condition, we realized that I would remain the sole provider of our home for the long run. Fortunately, he did begin receiving disability; however, we found ourselves in the process of losing our home. At that point I knew that in order to provide a better life for my family financially I needed to obtain a higher education and put my brains to work on how to obtain a successful and fruitful career that would not only provide the needed finances but also provide room for future growth. Short term sacrifice for a long term gain!
What are your career goals?

My career goals are to work for KPMG, one of the Big Four Public Accounting firms, where I will obtain a wealth of knowledge and experiences while contributing to the growth and success of the firm.
Do you currently work? If so, where and doing what? How does working impact your studying?
Throughout my college journey I worked in a variety of internships including working for Heart of Florida United Way, Regions Bank, Hispanic Business Initiative Fund and KPMG, one of the Big Four Public Accounting firms. At this time, I am attending school full time and have recently started graduate school for an MSA at the University of Central Florida Kenneth G. Dixon School of Accounting. This past summer I returned to KPMG for a second summer internship as an Audit intern. This fall of 2015 I will be a Graduate Assistant in the UCF Kenneth G. Dixon School of Accounting where I will be tutoring other students who are seeking an Accounting degree. Working and going to school full-time is challenging; however, with constant support from family, managing my time, prioritizing tasks and allocating 100% focus on what needs to be done at the moment, I have been able to succeed in my endeavors. In order to not get overwhelmed I focus only on my job when I am working and on one particular subject at a time when preparing for classes or studying in general.
How has the Beatrice B. Ettinger Scholarship impacted your life?

It impacted my life because it provided me with a means to pay for my education. Without this scholarship I would not have been able to focus on my studies full time to obtain my degree in a reasonable amount of time. It also provided me with more time and flexibility to spend time with my family since I do not have to worry about how to pay for school and books.
Tell us about your involvement on campus.
Throughout my time as a college student I worked both at my colleges, in the community, and most recently with KPMG which is on the path to my career goal. All of this has helped me grow as a person, a professional and as a resource to my community. While obtaining my degree I have been able to help my college, such as opening a food pantry at Valencia College which fed over 1,500 students in the first year. I have spent time helping many students in improving their study methods, applying for scholarships, and getting more involved on campus. In my college involvement I became the President of my student organization, the National Association of Black Accountants, and helped make strides in awareness of how NABA could help students obtain jobs at graduation, internships while in school, and scholarships. This has all been made possible through scholarship committees who believe in me and have supported my education and my dream of making a better life for my family.
Thank you Esperanza for sharing your inspiring story! To learn more about our scholarship funds, visit http://cffound.org/receive/scholarships/.