July 26 2017 • Rachel Calderon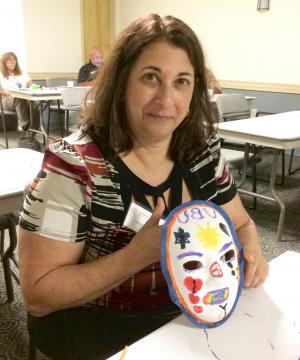 Soon after the Pulse tragedy in 2016, Central Florida Foundation convened local mental health providers to identify the community's most pressing needs in this area.
Through conversation, we quickly realized the need to deliver culturally competent, affirming services to meet the unique needs of our LGBTQ+ neighbors. This spring and summer, local mental health providers and community leaders increased their skills in doing just that. Through a grant from our Better Together Fund, we provided a series of training sessions led by Dr. Ashley Austin from the Center for Human Rights and Social Justice in the School of Social Work at Barry University.
In her work, Dr. Austin focuses on helping schools, health care providers and mental health/social service organizations to create supportive, healthy communities through practices that affirm LGBTQ+ individuals.
During the first phase of the training, participants learned how to:
Describe the differences between sexual orientation and gender identity
Explain intersectionality and its relevance to working with LGBTQ+ populations
Discuss the impact of homo/transphobic attitudes, beliefs, behaviors and policies on the lives of LGBTQ+ people
Demonstrate an affirmative stance towards LGBTQ+ diversity
Assess the impact of homo- and transphobic biases on current service provision and delivery
Create change strategies for LGBTQ+ inclusivity and affirmation at the individual, organizational and/or community levels
Felipe Matos-Rodriguez, manager of collaborative partnerships at the City of Orlando, shares that the training provided practical advice to help counselors do their jobs more effectively.

"I left the training thinking about research around mental health and how to use resiliency as a framework to help strengthen our community," Felipe says.

The second phase of training expanded on the first and included more advanced clinical training. Participants covered the following topics and activities:
Affirmative practice framework and assessment practices
Early anti-LGBTQ+ messages and affirmative response to discrimination
Integrating trauma-informed care into affirmative practice
Building self-awareness, self-compassion and self-connection
Therapeutic mask-making (see pictures below!)
Freedom Ride, a local nonprofit organization, will provide equine facilitated learning this fall for individuals affected by the Pulse tragedy. In preparation, Jessica Uhl, volunteer coordinator, participated in the training to broaden her perspective.
"Now I have a better understanding of the struggles that face our LGBTQ+ community on a daily basis like fear, isolation and prejudice. Our goal at Freedom Ride is to provide a safe place for our community to heal."
It has been an honor to support these mental health care providers as they serve those affected by the Pulse tragedy. Mental health care is an ongoing component of rebuilding our community, and the years ahead will bring many more opportunities to work together with those on the front lines. Learn more about the Better Together Fund.
These masks were created during the therapeutic mask painting portion of the training. We love how each piece is unique and represents each individual.