October 03 2015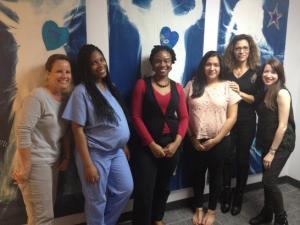 Many young adults are fortunate. They have at least one trusted adult who would help them financially if needed, visit them in the hospital if they were injured or ill or give them a safe place to stay.
They've had parents or relatives who taught them how to balance a bank account, apply for college, live a healthy lifestyle — all the things that prepare them for a successful, independent life.
Other young adults, like those aging out of foster care, aren't always so lucky. The Foundation for Foster Children is working to change that, however, and a $12,000 grant from the Central Florida Foundation is helping them to do it.
The Foundation for Foster Children used the grant to supplement its budget for salaries in 2014 and hire three full-time staff members. One coordinates BEST, the foundation's education program. The other two coordinate and manage LIFEGUIDES, a program that pairs mentors in a one-to-one relationship for 12 weeks with 17- to 23-year-olds who are leaving foster care, providing adult support as the youth learn to live on their own.
The grant was distributed through the Central Florida Foundation's Winter Park Community Foundation grant initiative, which paired Rollins College undergraduate students taking a course called "Impact Investing" with mentors from the Winter Park Community Foundation's advisory board to develop grant recommendations for organizations in Winter Park. The students then presented those recommendations to the Central Florida Foundation board.
To qualify for the grants, organizations had to be located in the Winter Park community and have a Reviewed portrait in the Foundation's Nonprofit Search.
Funding for grants awarded through the Winter Park Community Foundation comes from funds managed by the Foundation that were established in 1951, as the Winter Park Community Trust. Administration of the Trust was transferred to the Central Florida Foundation in 1996. The Winter Park Community Foundation, an affiliate of the Central Florida Foundation, holds 65 individual and family grant-making funds established by local residents to enhance and support the quality of life in the Winter Park community.
During the grant implementation period, the Foundation for Foster Children trained 31 mentors who helped their youth set and meet a variety of goals, like saving for a car or an apartment, planning healthy meals, and deciding on a plan for job training.
Shawntia, a 21-year-old mother of a young son, needed help managing her finances, so her mentor, Barbara, met with her every week after Shawntia's hemodialysis classes at Winter Park Tech to teach her the importance of budgeting.
Krissy helped Rachel, 20, learn how to manage her finances, as well, but she also shared tips on becoming a better student and communicating her feelings more clearly to strengthen her relationships.
Overall, mentors spent 338 hours working with their youth.
Betsey Bell, the Foundation for Foster Children's executive director, says assessments of the youths' life skills after the mentoring period were encouraging. Most showed improvement in budgeting and maintaining a healthy lifestyle. Some learned to drive and got their license. Others grew to trust their mentors enough to consider them part of their support network.
Their sense of permanency, housing and money management, self care, and optimism for the future also improved, by 13, 7, 19 and 29 percent, respectively.
And overall feedback of the program, Bell says, showed nearly all the youth felt there were adults who cared about them and would be willing to help them if needed. They also had higher expectations of themselves, felt more confident and thought of themselves as better people.
"Thanks to the Central Florida Foundation, young people aging out of foster care have been connected with a caring adult mentor," she said. "The impact is powerful, and the young people are incredibly grateful to have a community that invests in and cares about their well-being."
Learn more about Foundation for Foster Children on Nonprofit Search. Click here.