November 30 2017 • CFF Team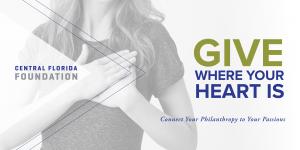 It's the busiest time of the year, and there are lots of demands for your time and attention. When it comes to charitable contributions, Central Florida Foundation is here to help you make it simple. Keep these important dates in mind so we can ensure your contributions qualify for a charitable income tax deduction in the 2017 tax year:
Checks sent via the U.S. Postal Service to our office must be postmarked on or before December 31, 2017.
Checks sent via FedEx must be physically received at our office on or before Friday, December 29, 2017.
Gifts of appreciated securities should be made by Monday, December 18, 2017. Notify us early to ensure a smooth transfer of these gifts. Email Meghan Warrick or call 407.872.3050 for assistance with gifts of stock.
Real estate gifts must have title transferred on or before Monday, December 18, 2017.
Partnership gifts must have the assignment on or before Monday, December 18, 2017.
Credit card contributions should be made by Sunday, December 31, 2017.
Donor advised fund grant recommendations should be made in MyFund by Friday, December 15, 2017 for grant checks to be received by the end of the year. Timing of grants does not impact charitable income tax deductions.
Take the first step—contact Mary Meghan Flanagan at 407.872.3050 or via email.