January 26 2017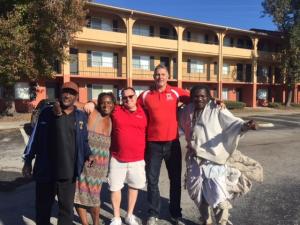 Thank you to Health Care Center for the Homeless for sharing the story of Larry Jackson with us. This story is the result of a recent grant from the Homeless Impact Fund at Central Florida Foundation to Health Care Center for the Homeless to implement intensive case management services that support the community's Housing First approach. The Homeless Impact Fund provides our community with the opportunity to invest in solutions that help reduce chronic and family homelessness. The fund focuses on a low barrier, housing first approach that uses proven results from around the country to make a differences in the lives of chronically homeless individuals in the community.

Here's Larry's Story…
If you have ever lived or worked in Downtown Orlando for any length of time, you have probably seen him. At the corner of Colonial Drive and Westmoreland Drive you could find him at self-appointed post, clad in white sheets and barefoot (as he preferred). As a well known fixture in the area, some have even called him the "John the Baptist of Westmoreland." What many do not know, is that behind the wild exterior is a kind and deeply religious man who resides on that very corner in fulfillment of what he feels is his "calling from God." Larry's journey of homelessness began 38 years ago at the age of 20, when the women he refers to as his grandmother, passed away. Born in Miami, FL in 1958, he was abandoned shortly after birth by his mother whom he believes she had been addicted to drugs. His father was unknown and is not listed on his birth certificate. Larry was taken in and raised by his grandmother and sisters and began working from late childhood as a migrant farm worker.
He recalls a childhood of harvesting oranges, cucumbers, green peppers, and cabbage all along the east coast. When they were not working hard on the farm, he and his grandmother could be found in church or community gatherings where his still evident love of scripture and the community began. Conversations with Larry invariably involve discussions about spirituality, the Bible, and how his life has been guided by "the Lord." He also frequently talks about how segregation in the South, and the 1968 Supreme Court ruling on desegregation, profoundly impacted his life.
In the 10th grade Larry dropped out of school to work the farm circuit full time. He ran away at age 15 for a year, working on farms, in restaurants, and doing "what the Lord blessed him with along the way." For 30 years, between 1980 and 2010, he spent time in and out of jail, couch surfing, living in sheds, garages, and back rooms of bars and shops where he worked. At one point, Larry spent over a year living and being treated in a State hospital.
Start Walking
One day in 2010, Larry heard the Lord tell him "to start walking." He started walking north on Highway 27 from Lake Alfred, FL until he got to Clermont, FL where he made a right on State Road 50 (Colonial Drive) and continued walking until he arrived unceremoniously to the corner of Colonial and Westmoreland Drive. The filthy parking lot and dirty streets caught his attention and he shares that the "Lord called me to clean it up!" Faithful to his call, Larry has spent the last several years "volunteering" his time clearing the parking lot and sorting through dumpsters in the area in exchange for materials to create his existence. He built a makeshift home from discarded wooden pallets, plywood, and cardboard, and relied on the kindness of "neighbors" at 7-Eleven and other businesses close by to support him as he awaited the next "call" from the Lord.
Larry was well known to local police, business owners, and homeless advocates. They all attempted innumerable times over the years to help him engage in local services to get off of the streets, but to no avail. Larry would invariably politely decline services, appearing somewhat fearful and distrustful of any services offered. In early 2015 the HOPE Team (Homeless Outreach Partnership Effort) of Health Care Center for the Homeless (HCCH) began working with Larry. Over the course of four months, they met with him (at times daily) to build trust and rapport. Finally, Larry agreed to accompany the HOPE Team and some collaborating police officers to go see a potential apartment.
A Turning Point
With the generous gift of the Homeless Impact Fund (HIF) at Central Florida Foundation, the region has been able to implement a Housing First approach in the region. This approach stresses low barriers to housing, giving preference for location to clients and wraps supportive services around the client after being housed. Using these funds, the Homeless Services Network has been able to locate, secure agreements, and build an inventory of landlords and scattered site affordable apartments to be leased by eligible, chronically homeless clients. HCCH used a grant from the Homeless Impact Fund to build a permanent supportive housing program/team that provides supportive case management and peer support services to housed clients.
By June 15, 2015, Larry had signed his lease and taken occupancy of a one bedroom apartment in the Rosemont area of Orlando, his first home in 38 years. Larry's transition inside has not been an easy one and has been filled with fascinating conversations, tense moments and even uncertainty at times. However, since being housed, he now engages regularly with his case manager and peer support specialists. Larry now has a primary care providers and his general health has improved. He is also being seen by a behavior health provider and has been diagnosed and is being treated for chronic schizophrenia. Larry has most likely been suffering from many symptoms associated with this mental health disorder for a very long time - including paranoia, social avoidance, and delusions - all which prevented him from actively engaging in society.
With the assistance of the grant from the Homeless Impact Fund at Central Florida Foundation to invest in Health Care Center for the Homeless case management, peer support, and disability specialists, Larry has been able to apply for Social Security benefits and obtain EBT benefits (food stamps), learn how to use his EBT card, have labs drawn at Quest Labs, learn to manage his money, and what has become a staff favorite - grocery shopping. He loves to cook. While he continues to fashion his own clothes from white sheets, he has begun to wear shoes again, "but only to appointments." While guarded and easily scared much of the time, he also adapts quickly. He is a kind and gentle man who is so appreciative of all the assistance he is given. Larry credits the Lord for his change in circumstances and says he will strive every day to do well by keeping his apartment, being a good neighbor and "not letting HCCH down."
It has been an honor for us to walk this journey with him.