June 07 2019 • CFF Team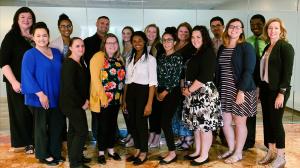 ORLANDO — June 7, 2019 — Central Florida Foundation today announces the grants from its annual Community Investment grant round. The Foundation's board of directors approved the following projects and nonprofits to receive investments:

$17,500 to Easter Seals Florida to

remodel the bathrooms to improve safety and aesthetics

$6,000 to Easter Seals Florida for

the start of the Caregiver Support Program

$800 to Easter Seals Florida for the

Music and Memory Program

$14,000 to Central Florida Zoo for

the relocation of the Aldabra Tortoise and African Spurred Tortoise habitats (This is challenge grant to raise the remaining $9,790 to complete the project).

$14,000 to Cornerstone Hospice &

Palliative Care for the Pet Peace of Mind Program (This is challenge grant to raise the remaining $9,000 to complete the project).
The projects total an investment of up to $52,779 to improve the quality of life in the community.
"Pets contribute to the comfort and quality of life for hospice patients," said Nick Buchholz, executive director of Cornerstone Hospice Foundation. "Thanks to this lead gift from Central Florida Foundation, a fenced dog park with walkways, landscaping and other amenities will be built."
On an annual basis, the Foundation awards approximately $6 million in grants with at least 75% of the grants supporting local nonprofits in Central Florida.
Endowed funds at the Foundation make these annual grant rounds possible. Generous individuals established these funds to help maintain and improve the quality of life in Central Florida forever.
"At Central Florida Foundation, we prioritize making lasting investments in the community. We appreciate the students and mentors that take this task to heart," said president/CEO Mark Brewer.
The grant committee this year included students from the University of Central Florida School of Public Administration and community members: Julie Tindall, Lauren Chianese, Jennifer Moureau, and Heather Cannon. The committee used Nonprofit Search to research nonprofits and present grant recommendations to the Foundation's board of directors for approval.
"It was a wonderful experience to be a mentor," said Lauren Chianese. "The students were eager to learn, and that fills me with a lot of hope for our future community leaders!"
###
About Central Florida Foundation
Central Florida Foundation believes in the power of philanthropy and that thoughtful strategies, combined with a generous community, make Central Florida a place where everyone feels at home. The Foundation works with families focused on giving back, nonprofits and across public and private sectors to bring philanthropy to life. It all began in 1994 as a dream around a table of local, passionate people, and has grown to be one of the community's most trusted resources. Learn more at www.cffound.org.