October 05 2018 • CFF Team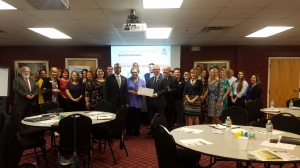 ORLANDO, Fla. – (October 5, 2018) – In an effort to help more students achieve college degrees and quality credentials, Central Florida Foundation today announces a more than $100,000 investment in the Central Florida College Access Network (CFCAN).
CFCAN is a community-based alliance of representatives from K-12 education, higher education, nonprofit organizations, local government, business and philanthropy to connect students, including adult learners, to the resources they need to achieve a higher education. CFCAN offers a scholarship search tool and financial aid and Free Application for Federal Student Aid (FASFA) resources.
Central Florida Foundation received a 1:1 match grant of $50,000 from the College Access & Support Initiative (CASI) at Florida Philanthropic Network to enhance, strengthen, and sustain the Central Florida College Access Network. The more than $100,000 investment in CFCAN will support programmatic needs and create an endowment to provide on-going support.
"When people come together to address an issue, big things can happen," said Mark Brewer, president/CEO of Central Florida Foundation. "We believe that education opens doors and provides opportunities that wouldn't exist otherwise."
The Florida Philanthropic Network, in partnership with Helios Foundation and The Kresge Foundation, launched the College Access & Success Initiative. This initiative is a two-year project leads statewide efforts to create a network that empowers and supports communities to improve college and career preparation, access, and completion for all students.
"Heart of Florida United Way is proud to lead this initiative with Central Florida Foundation," said Ray Larsen, vice president for collective impact and community investment at Heart of Florida United Way. "The goal is to increase the number of students attaining degrees in Orange, Osceola and Seminole counties from 41% to 60% by 2025, and I know we will get there together with our partners."
This investment is made possible thanks to generous partners across sectors in our community that believe in the power of education and its importance to the local economy. The investors in this initiative include the Florida Philanthropic Network, Wells Fargo, Florida Blue, Bank of America, SunTrust, Phoenix University, The Desai Family Foundation Fund at Central Florida Foundation, and Central Florida Foundation.
"At Wells Fargo, we understand the importance of quality education in the development of a productive, innovative workforce that can help foster future economic growth and prosperity for our local communities," said Wells Fargo North Central Florida Region Bank President Derek Jones. "That's why we are so excited to be able to support the Central Florida Foundation and their efforts to promote academic achievement and to prepare our students for a better tomorrow."
###
About Central Florida Foundation
Central Florida Foundation believes in the power of philanthropy and that thoughtful strategies, combined with a generous community, make Central Florida a place where everyone feels at home. The Foundation works with families focused on giving back, nonprofits and across public and private sectors to bring philanthropy to life. It all began in 1994 as a dream around a table of local, passionate people, and has grown to be one of the community's most trusted resources. Learn more at www.cffound.org.