August 16 2017 • CFF Staff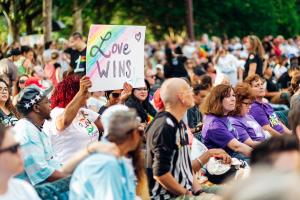 ORLANDO, Fla. (August 16, 2017) – The Better Together Fund, an initiative at Central Florida Foundation created in response to the Pulse nightclub tragedy, continues to provide support and aid to the community on its road to healing. Since launching in June 2016, the Fund has received more than $1.1 million in contributions. During its first year of grant-making through the Fund, Central Florida Foundation has made the following investments in the community:
$14,000 to Barry University to provide cultural

competency training for LGBTQ+ Affirmative Care to mental health and community providers.

$30,000 to Equality Florida to hire Central

Florida Safe and Healthy Schools coordinators to launch programs in Orange, Seminole, and Osceola County public schools that ensure the safe and equal treatment of LGBTQ students.

$50,000 to the "Friends Talking Faith"

radio show to share stories of the community and how it's been transformed by the events at Pulse.

$272,000 to Heart of Florida United Way to

provide gap funds for emergency needs and mental health care, as well as to support those directly impacted by the tragedy with basic needs, like rent, mortgage, utilities and monthly expenses.

$1,500 Mental Health Association of Central

Florida to provide mental health care for survivors through weekly support groups.

$5,000 to Orlando Youth Alliance to provide

educational scholarships.

$20,000 to Pulse of Orlando to develop a plan

and strategy to formalize the One Orlando Alliance and provide ongoing assistance.

$5,000 to The 49 Fund to provide educational

scholarships.

$41,000 to Trauma Resource Institute to train

lay leaders across our community on the biological response of trauma using the Community Resiliency Model to help participants heal themselves and help the community.

$91,854 to Two Spirit Health Services to provide

gap funding for the community's infrastructure for mental health services.

$5,000 to UCF Foundation to provide educational

scholarships through the Dively-Dupuis LGBTQ Leadership Award.

$5,000 to Valencia Foundation to provide

educational scholarships through the Pulse Memorial Foundation.

$5,000 to Zebra Coalition to provide educational

scholarships through the Jefferson R. Voss Education Fund.
These recipients were selected based on the Fund's four key areas of support: nonprofits that support victims and families; the LGBTQ, Hispanic, faith and other affected communities; underlying causes of the event; and other unanticipated needs. The Foundation distributes grants through an accountable, transparent grant-making process that enables the public to see where funds are directed.
"During one of Central Florida's darkest moments in history, we saw incredible support as generous individuals and organizations came forward to help rebuild our community," said Mark Brewer, president and CEO of Central Florida Foundation. "This is only the beginning of a long process, and we will continue to work closely with those on the front lines to identify and respond to our community's needs in the time ahead."
Contributors to the Better Together Fund include Universal Orlando Foundation, Winter Park Health Foundation, Coca-Cola Foundation, The Delta Air Lines Foundation Nationwide Insurance Foundation, and Wells Fargo Foundation.
To see the full list of contributors and for updates on grants from the Fund, visit www.cffound.org/bettertogether.
###
About Central Florida Foundation

Central Florida Foundation is the place for people who want to invest in their community. The Foundation serves as the region's community foundation and is home to more than 400 charitable funds. The Foundation manages and invests funds, offers personalized service and expert giving advice, connects caring people, businesses, governments and organizations to local initiatives that build and inspire community, and empowers them to make informed decisions that make a difference now and in the future. Central Florida Foundation works with individuals, families, businesses, professional advisors and nonprofits. Learn more at www.cffound.org.
Photo credit: Chris Stephenson