September 09 2016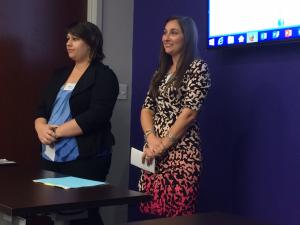 ORLANDO, Fla. - September 8, 2016 - Central Florida Foundation, today announces the grants from our annual Community Investment Grant Round.
The eight projects and nonprofits to receive grants include:
The eight grants total up to a $168,630 investment in the community.
"This investment from the Central Florida Foundation to HOPE Helps, Inc., will help us provide healthier fresh food items on a more consistent basis to the nearly 300 households we serve each week," said Joan Faulkner, chief executive officer of HOPE Helps, Inc. "Now we are able to accept contributions of fresh produce from other donors in our community."
The Community Investment grant round is part of Central Florida Foundation's effort to educate the next generation about investing in nonprofits. For the fifth year in a row, students enrolled in Philanthropy, Fundraising, and Social Entrepreneurship, a masters-level course in the School of Public Administration at the University of Central Florida, teamed up with mentors from the Foundation.
"The class gave me the opportunity to not only learn, but also interact with professionals in the nonprofit world in order to evaluate their programs for capacity, sustainability, and financial health," said Keisha Moore, a graduate student at the University of Central Florida. "The guidance from the professionals at the Foundation combined with advice from mentors proved to be instrumental throughout the entire process. It was truly a rewarding experience and one that I will never forget."
New for this year, the class partnered with students enrolled in Government and Nonprofit Accounting, a masters-level course taught by Dr. Lynda Dennis in the College of Business Administration also at the University of Central Florida. The students in the accounting course reviewed the financial statements of the nonprofits under consideration by the students in the philanthropy course. Their observations helped inform the students in the philanthropy course as they narrowed their decisions and crafted their grant recommendations.
"This was an incredible opportunity for our students to gain a deeper understanding of the investable characteristics of nonprofit organizations," said Stephanie Krick, associate lecturer in the School of Public Administration at the University of Central Florida. "These students left this class with a whole new appreciation of the grant-making process."
The students used Nonprofit Search to research nonprofits and present grant recommendations to the Foundation's board of directors for approval. Mentors on this year's committee included Rhonda Pearlman, Andrew Knutson, Lou Nimkoff and Thomasa Sanchez.
"I was so pleased to have the opportunity to mentor students from the University of Central Florida as a part of their nonprofit management master's program," said Andrew Knutson, president/ceo of Valhalla Consulting Services. "I am hopeful that my experience and knowledge benefited the students in some way; however, I feel I benefited from them more by hearing new perspectives, goals and philosophies that will allow me to be a better leader."
Endowed funds at Central Florida Foundation make the Community Investment grant round possible. These permanent community assets were originally established by generous individuals whose desire was to help maintain and improve the quality of life in Central Florida. Their lasting contribution will help meet future needs of the community that could not have been anticipated when the funds were established. While these individuals have since passed away, their investments will continue on forever through careful investing and administration at Central Florida Foundation.
"Whenever you can take learning outside of the classroom, exciting things can happen," said Sandi Vidal, vice president of community strategies and initiatives at the Foundation. "During this grant round, UCF students were able to learn how to invest in local nonprofits. The end result is that 8 nonprofits will have the ability to increase their capacity in Central Florida and the students took part in a learning experience that they will never forget. Now they understand nonprofits in a whole new way."
About Central Florida Foundation
Central Florida Foundation is the place for people who want to invest in their community. The Foundation serves as the region's community foundation and is home to more than 400 charitable funds. The Foundation manages and invests funds, offers personalized service and expert giving advice, connects caring people, businesses, governments and organizations to local initiatives that build and inspire community, and empowers them to make informed decisions that make a difference now and in the future. The Central Florida Foundation works with individuals, families, businesses, professional advisors and nonprofits. For more information on the Foundation, please visit www.cffound.org.
###