June 21 2017 • CFF Staff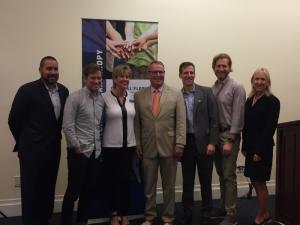 ORLANDO, Fla. – (June 21, 2017) –Central Florida Foundation today launched the Social Enterprise Accelerator – connecting entrepreneurs with resources, funding and mentors to help them build their ideas into self-sustainable ventures that solve pressing community issues.
The first program of its kind in Central Florida, this initiative will help entrepreneurs in the early stages of product or business development. Participants will interact with mentors to advance a business model that achieves a "double bottom line" – delivering tangible results and solving social, environmental and economic societal challenges.
The program will be headquartered at the Rosen Center at Rollins College and offer:
"A growing number of millennials want to do the kind of work that fulfills their passions while honing their entrepreneurial spirit – but speaking from personal experience, it can be tough to access the capital and connections to do so," said Ben Hoyer, president and COO of the Social Enterprise Accelerator and founder of Downtown Credo, a donation-based coffee shop. "We're here to help entrepreneurs build and scale their ideas into self-sustainable ventures that benefit our entire community."
Mark Brewer, president/CEO of Central Florida Foundation, added: "We want to establish Orlando as a national hub for social enterprise by helping entrepreneurs break through barriers to success. Younger generations want to be actively involved not only in philanthropy, but in problem-solving. This initiative will help to harness that growing momentum."
"We are excited to create a place for emerging social entrepreneurs to move their businesses forward", said Rob Panepinto, Board Chair for the Central Florida Foundation and CEO/Chair for the Central Florida Social Enterprise Accelerator. "Social entrepreneurs, who have a higher percentage of woman and minority led businesses as compared to traditional tech startups, face the unique challenge of building both a sustainable business model and driving positive social impact. The Accelerator, which has been over two years in the making, will support these entrepreneurs by leveraging the social enterprise expertise of our Founding partners: Central Florida Foundation, Rollins College, Downtown Credo, Entrepreneurs in Action, and Clean the World, along with our other committed investors and community partners, including the City of Orlando."
Panepinto is also the CEO of Entrepreneurs in Action, who will manage an early stage venture fund to invest in the for profit social enterprises stemming out of the Central Florida Social Enterprise Accelerator.
The Social Enterprise Accelerator is inviting individuals and corporate partners to join the effort. Support levels include Rally Makers, Seed Investors and Angel Investors, with opportunities to mentor and judge participants, among other benefits.
Nonprofit organizations and entrepreneurs can apply to the accelerator beginning on June 30. For more information, visit www.cflsea.com.
###
About Central Florida Foundation
Central Florida Foundation is the place for people who want to invest in their community. The Foundation serves as the region's community foundation and is home to more than 400 charitable funds. The Foundation manages and invests funds, offers personalized service and expert giving advice, connects caring people, businesses, governments and organizations to local initiatives that build and inspire community, and empowers them to make informed decisions that make a difference now and in the future. Central Florida Foundation works with individuals, families, businesses, professional advisors and nonprofits. Learn more at cffound.org.
About the Social Enterprise Accelerator
The Social Enterprise Accelerator's mission is to create positive social change by propelling qualified social entrepreneurs to build their ideas into self-sustainable ventures within our community. We work with social entrepreneurs in the early stages of developing their product or business who are looking for help or guidance. Learn more at cflsea.com.