August 27 2019 • Rachel Calderon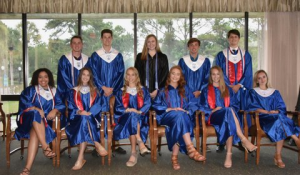 ORLANDO, Fla.—(August 27, 2019) – The Brede-Wilkins Scholarship Fund at Central Florida Foundation recently awarded 14 scholarships of up to $10,000 each for students pursuing an undergraduate degree.
The recipients and schools include:
The effort was initially established in 1988 by Ellen H. Brede and her brother Leonard O. Wilkins, two of the founding residents of the Village on the Green Retirement Community and remains the crown jewel of the community. Since neither of the founders attended college, their intent was to provide educational scholarships to employees at Village on the Green.
Since the inception of the scholarship fund 31 years ago, 1,843 annual scholarships have been awarded totaling $3.5 million.
To qualify for the scholarship, initial applicants must have a minimum high school GPA of 3.0; renewal applicants must have a minimum cumulative GPA of 2.5; initial and renewal applicants must have plans to be enrolled in a degree-seeking program at an accredited educational institution full-time; applicants must display participation in community service and extra-curricular activities; and demonstrate the character and motivation to work towards their educational goals.
Applications are reviewed and awards are determined by an independent Scholarship Selection Committee. The Committee is comprised of members who are approved annually by the Board of Directors of the Central Florida Foundation. Recipients are recognized at the annual Brede-Wilkins Scholarship Awards Dinner for residents at Village on the Green.
"At the annual scholarship awards dinner, Village on the Green Residents celebrate the miracle of generosity by welcoming youth into deepening lives of learning, giving, and meaning," said Basil H. Pflumm, chair of the Brede-Wilkins Scholarship Fund. "Brede-Wilkins is the treasured jewel of unity spanning across generations."
"Education is a pathway to the future," said Mark Brewer, president/CEO of Central Florida Foundation. "The Foundation is honored to steward the legacy of the Brede-Wilkins Scholarship Fund."
For more information about the scholarship program at Central Florida Foundation, visit http://cffound.org/receive/scholarships/.
###
About Central Florida Foundation
Central Florida Foundation believes in the power of philanthropy and that thoughtful strategies, combined with a generous community, make Central Florida a place where everyone feels at home. The Foundation works with families focused on giving back, nonprofits and across public and private sectors to bring philanthropy to life. It all began in 1994 as a dream around a table of local, passionate people, and has grown to be one of the community's most trusted resources. Learn more at cffound.org.