May 26 2017 • Rachel Calderon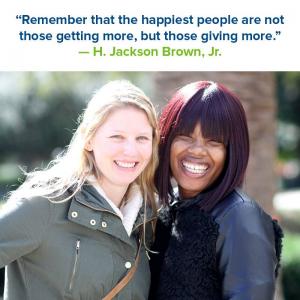 For most teenagers, high school is a fun, exciting chapter of their lives. They go to prom, attend sporting events, tour colleges with family members, and prepare for the next steps after graduation. But, for youth in foster care, attending college and working toward a career can seem like a distant dream. In fact, according to the National Work Group on Foster Care and Education, fewer than 50% of youth in foster care graduate from high school. And despite the fact that 87% of foster youth want to attend college, only 2-3% earn an associate or bachelor's degree.
In addition, the uncertainties that come with foster care contribute to the rising mental health needs of youth within the system. Studies have shown that foster youth experience post-traumatic stress disorder at a higher rate than that of returning combat war veterans. While court-ordered tutoring can help improve academic outcomes for students in foster care, advocates say it is not enough. These teens need support from every angle to rise above their circumstances.
Foundation for Foster Children (FFC), a local organization that provides support beyond basic needs to children in foster care, is working to flip the script. FFC has built a pilot program called Education+ thanks to an $18,000 investment from 100 Women Strong, a giving circle at Central Florida Foundation that works to improve the lives of women and children in Central Florida. This evidence-based program takes into account each youth as an individual and connects them with an education advocate from the FFC team.

The advocate, Lee Bennett, is a trusted individual in the youths' lives. She helps students think about their long-term goals, the types of lives they want to have, and how to get there. Initially, this way of thinking can be a challenge for foster youth, who often live in survival mode — moving from home to home and trying to get from one day to the next. Their lives have been marked by instability and transition; it's the only way of life they know.
Lee helps to change that mindset, turning their focus towards the future and the long-term prizes: stability, normalcy, success, and independence. Finally, someone notices them and cares enough to see them for who they are.
"There are many people who play important roles in a foster child's life," says Betsey Bell, executive director of Foundation for Foster Children. "The education advocate is uniquely positioned to work with individual foster youth, ensure open lines of communication and advocate within both the school system and the child welfare system to resolve difficult issues and remove barriers to academic advancement."
Lee meets with each child on a weekly basis and takes on a role similar to that of a parent. She helps each youth create a plan for high school graduation and beyond. This includes everything from monitoring class attendance, grades, and behavior to determining which classes they need to take in college for their intended career and everything in between. Lee also helps each youth identify and build a supportive team of mentors, friends and other positive adult figures whom they can lean on for support. If there are any barriers to education like special education needs, challenges with discipline or transportation issues, she helps resolve these issues too. These are all things that a stable and involved parent would do.
"My goal is for each student to achieve success. Success is not final, failure is not fatal — it is the courage to continue that counts," says Lee.
What makes this initiative unique is the amount of research and preparation that went into the process. FFC retrieved educational data from its trusted partner, Community Based Care of Central Florida, which oversees foster care and adoption in Orange, Osceola and Seminole counties. This data helped FCC to identify foster youth to participate in the Education+ program. FCC also worked diligently to open the lines of communication between the education advocate and Orange County Public Schools, which has given the advocate the ability to meet with the students and teachers in school. The program has been built thoughtfully and meticulously from the ground up on the basis of proven, evidence-based practices.
"We still see the child beneath all the layers," said Raquel Tapia, education program manager at Foundation for Foster Children.
After the Education+ program was launched with the support from 100 Women Strong, Sarah (whose name has been changed for privacy purposes) was selected to participate. When Sarah was in the 10th grade, she was sexually assaulted by her father and became pregnant. After this traumatizing event, she dropped out of high school, went through her pregnancy and gave the baby up for adoption. She then returned to school with the desire to earn her high school diploma.
It was evident that Sarah needed more support than tutoring alone. When she began meeting with Lee on a weekly basis, they were able to identify Sarah's true obstacles to success: a language barrier, transportation and housing issues. FFC was able to coordinate the support needed to ensure her success and then focus on educational goals. Sarah's dream is to be a pediatrician, and now she has a plan in place. She is enrolled in the correct courses, and she has the proper tutoring support, access to community resources that she needs, mental health care and an advocate who is with her every step of the way.
Thanks to this thoughtful investment from the women of 100 Women Strong, FFC has been able to expand its efforts and serve individual foster youth more holistically.
"I am so grateful to 100 Woman Strong for their support of this important program," says Raquel. "By moving from supporting children through solely tutoring services to also providing in-depth academic advocacy, we are now able to truly move the needle for students served."
(Photo from Foundation for Foster Children Facebook page).