July 25 2015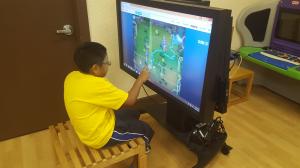 Children with motor disabilities resulting from cerebral palsy and other conditions are getting a boost in reaching their educational goals, thanks to a $12,000 grant awarded by the Central Florida Foundation to the Conductive Education Center of Orlando (CECO).
CECO used the grant to purchase 10 laptops and five desktop computers that students are using to access lessons and educational software, helping them meet core curriculum standards at school. The grant also funded workshops for parents that explained the motor development skills taught at CECO and ways to help their children continue putting those skills into practice at home.
"The grant has had a remarkable impact on our organization," said Rosene Johnson, CECO's executive director. "These funds have increased our capacity to teach our students and increased their capacity to succeed. The grant has also assisted us in receiving invaluable feedback from our parents about how we can further help them in supporting their child to meet their fullest potential."
That kind of parental care and involvement is what led to CECO's inception in 2001. Joe and Vicky Raymond founded CECO to help their son, Joseph, who was born with cerebral palsy, and other children with motor disabilities become as independent as possible.
CECO does so through conductive education, a style for teaching children with motor disabilities that was developed by a Hungarian physician, Dr. Andras Peto in the 1940s. His methods were based on the idea that despite damage, the nervous system still possesses the capacity to form new neural connections, which ability can be mobilized with the help of a properly guided, active learning process. The individual instruction incorporates physical, social and educational elements in a group setting. It also addresses unmet academic and therapeutic needs by offering programs that integrate motor therapy into a life skills-building curriculum. CECO is the only center of its kind in the southeast region and is 1 of 4 centers in the United States with a full school day program. CECO is also the second organization to have developed a formal conductor education bachelor's degree program in the United States that will launch this fall.
The grant CECO received was distributed through the Foundation's Winter Park Community Foundation, which paired Rollins College undergraduate students taking a course called "Impact Investing" with mentors from the Winter Park Community Foundation's advisory board to develop capacity-building grant recommendations for organizations in Winter Park. The students then presented those recommendations to the Central Florida Foundation board.
To qualify for the grants, organizations had to be located in the Winter Park community and have a Reviewed portrait in the Foundation's Nonprofit Search.
Funding for grants awarded through the Winter Park Community Foundation comes from funds managed by the Foundation that were established in 1951, as the Winter Park Community Trust. Administration of the Trust was transferred to the Central Florida Foundation in 1996. The Winter Park Community Foundation, an affiliate of the Central Florida Foundation, holds 65 individual and family grant-making funds established by local residents to enhance and support the quality of life in the Winter Park community.
Johnson says students using the computers purchased with the grant money have been able to incorporate appropriate technology into their day and improve their fine and gross motor skills.
"Students with communication delays and difficulties utilize the computers as part of their daily course work and related activities," Johnson said. "And based on their first marking period progress reports, these students are on track to meet their stated curriculum and learning goals, achieving an average of 70 percent mastery of their stated objectives."
CECO's teachers and parents have also benefited, Johnson said. Through the upgraded systems, teachers have access to educational programs that allow them to create communication boards and other visual aids that help nonverbal students reach their communication goals.
And a portion of the grant funded four workshops for parents last year that helped them better understand the unique education method taught at CECO, the role of assistive technology in the program and ways to continue their children's learning at home. A second set of workshops offered early this year in collaboration with Jewish Family Services of Greater Orlando provided parents with technical and parenting education specific to their children's needs.
"We believe our grant was very successful," Johnson said. " And we are very thankful for the support."
Learn more about CECO on Nonprofit Search. Click here.