October 16 2017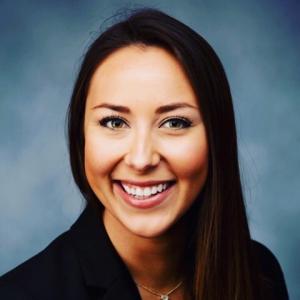 We recently had the opportunity to get to know one of 100 Women Strong's members, Alexa Padilla. Learn more about her from our conversation below.
Alexa was born and raised in Winter Springs, Florida and recently returned to the area to begin her career as a personal injury attorney with Martinez Manglardi. She is a proud "Double Gator," receiving both her undergraduate and law degree from the University of Florida. Alexa is an attorney at Martinez Manglardi, where she represents clients who have been injured as a result of another's negligence. She recently celebrated her first year as an attorney by winning a large verdict in her first trial. She has a dog, Lou, and a kitten, Boo, and is also passionate about helping homeless animals.
What was your driving force to join?
I believe that improving the lives of women and children would have the greatest effect on positively changing the world, so when I was introduced me to 100 Women Strong, I was in! The more that I heard about the structure of the organization, the more impressed I was. I love that members can have an active role in contributing to the organization because it maximizes the effect we have on the local community. We get together and find aspects of the community that we can truly help, by using the money we funded, our connections, research, data, and passion. It is so unique and I am so proud to be a part of the organization!
Why do we need 100 Women Strong in the region?
The overall crime rate in Pine Hills is 87% higher than the national average. For every 100,000 people, there are 14.64 daily crimes that occur in Pine Hills. Where does that leave the kids and where does that leave them on their path to education. Working with UCF and the Early Learning Coalition we are changing lives and we are changing the future. We need to be able to replicate the goodness we do in all aspects of our community. We can and should help.
Where would you like to see 100 Women Strong in 5 years?
I would like to see 100 Women Strong grow into a network full of women from all different backgrounds, so that we can have everyone's opinion on how we can help.
What kind of impact do you think the group can have?
Whether it's preventing drowning by teaching children how to swim, giving kids a place to safely play, or giving mothers the comfort of knowing that they have help, I truly believe this group will have lasting impacts on the lives of women and children that need our help. Small or large, everything helps.
Tell us about you and your family?
I have two younger brothers, Joshua and Kyle, and we are each one year apart, so we grew up very close. My father, Ivan, came to the U.S. from Venezuela when he was in middle school, which gave him the opportunity to meet my beautiful mother, Pamela. Growing up, my father worked long hours, and my mother worked full-time as a paralegal and attended law school at night, so I had no sympathy when I tried to complain about how hard law school was. We have a very large, Hispanic extended family (my father is 1 of 9), so our house is always full of food, dancing, singing, and laughing.
What do you like to do for fun?
I wish that I could say that I have a cool hobby, but I don't. I enjoy spending time with my friends, listening to Podcasts, and watching Bravo.
Thank you Alexa! Learn more on how you can join other like-minded women like Alexa in giving back to the community.