Mark Brewer discusses the research findings on the values and priorities of Central Floridians
July 15 2014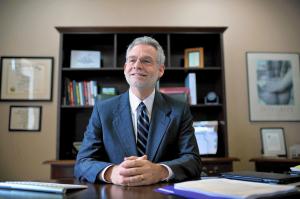 In Central Florida, we love our low taxes and especially our shopping malls. We think crime is our biggest single problem, followed closely by all that irritating traffic we sit in. We're happy with our health-care system, and we think someone should do something about the poor and homeless — but not necessarily us. More than a year in the making, a recently unveiled $250,000 study offers what leaders say is the first in-depth look at what's really important to Central Floridians, what they would change and whether they feel a sense of civic duty to make the changes happen.
"When you start talking to people about why they live in Central Florida, they start talking about the low cost of living and superior shopping opportunities," said Mark Brewer, president and CEO of the philanthropic Central Florida Foundation, one of three sponsors of the study. "But when we asked people about human services or whether you depend on your neighbors or if you feel like you have a voice in the community, one of the things we found is that a lot of people don't think Central Florida is doing all that well at those things. But they also didn't think those things were the most important." If that sounds disheartening to those who favor an engaged citizenry, Brewer and others say it's critical to know. "You have to figure out what motivates people before you can connect with them," Brewer said. "In one sense, it's the same way you sell consumer goods. You can't just assume there's a market out there, and everybody's just waiting for your product."
The push for the study — conducted by the Virginia-based national research-consulting company Heart + Mind Strategies — came from a 2012 regional leadership conference on how to improve Central Florida's global economic competitiveness and quality of life. In addition to the Central Florida Foundation, the study was commissioned by regional-transportation planners MetroPlan and the Central Florida Partnership, a collaboration of business and civic leaders. The three split the cost.
Researchers used extensive in-person interviews with "influential community leaders" identified by the sponsors; group discussions of both leaders and the public; and more than 1,000 half-hour online surveys with Central Florida residents selected to represent median income, age and gender of the population as a whole.
They especially wanted to hear from residents earning $30,000 a year and less — who, Brewer said, don't typically have a voice in policy discussions.
The No. 1 priority for the community overall? Reducing crime and making neighborhoods safer. Close behind was creating better job opportunities (with decent pay and benefits) and improving education.
Residents were more optimistic about the region's economy and future in general than about their own finances and future. They also were more optimistic than respondents in national surveys conducted by the company.
Nearly two-thirds of local respondents said the quality of life is increasing for future generations living in the region — significantly higher than the 44 percent of national respondents who thought the same way. And more than half (60 percent) of Central Floridians surveyed thought the community is headed in the right direction — twice the rate of respondents nationally who said the country is headed in the right direction.
"One of the interesting things we learned … is that we're a community of optimists," said Marty Rubin, president and CEO of communications company Smart City. "We think that [creates] a great opportunity."
And though very few said the local economy is strong (6 percent), nearly half of those surveyed said it's improving. Those most likely to disagree are residents age 18 to 34 and those making less than $30,000 a year.
Yet many said they feel little sense of community, and they weren't sure how to change that. "The problem is that, as citizens, many of us are not all that involved," Brewer said. "For us, our message is: Job No. 1 is engagement. Job No. 1 is getting people to come and work on solutions together — and not asking them for money. The money comes after you get people to step up and be engaged."
To see the video of the story, click here.
Article by Kate Santich and published in the Orlando Sentinel on July 8, 2014.