Celebrating 20 Years of Philanthropy in Central Florida
June 06 2014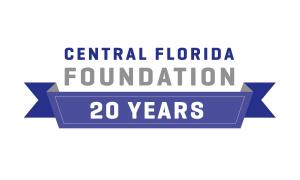 This year marks the 20th anniversary of the Central Florida Foundation. It's an exciting milestone and one that's only been possible through the generosity of individuals, families and corporations who have played such a key role in building community by building philanthropy.
Their efforts have enabled us to become the region's community foundation — a public grant-making foundation that partners with individuals, families, businesses, professional advisors and nonprofits to support our community and serves as a trusted philanthropic home for more than 400 charitable funds.
In the past 20 years, we have grown to more than $55 million in assets and awarded grants of more than $30 million to local nonprofits that use the investments to improve their organization's performance, effectiveness, impact and overall sustainability.
And we have come a long way since 1994, when we had $855,000 in pledges and Orlando was the last major metropolitan area in Florida to start a community foundation. In 1996, we ranked among the top-10 fastest growing community foundations in the country and awarded our first grants totaling $60,000 to 23 organizations in Orange, Seminole and Osceola counties.
We invite the Central Florida community to join us as we celebrate the achievements that have led us to where we are today. We can't wait to share our stories of people and companies that have created legacies, taught family philanthropy, honored a loved one's memory and provided scholarships for students — connecting their resources with their passions to make a difference to so many in our community. Their stories show how we can all address our community's greatest needs while creating sustainability for a cause or organization that is close to our hearts.
We look forward to many more years of building our community together and invite you to experience the joy of giving with us as we celebrate 20 years of philanthropy in Central Florida.