Creating a Legacy to Transform the Central Florida Community
June 01 2015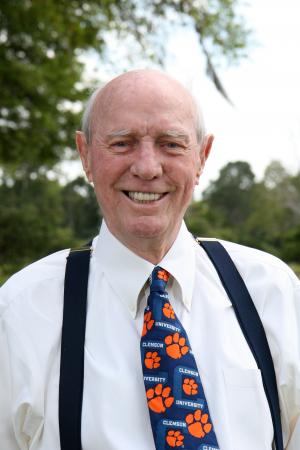 (Pictured: Frank Hubbard)
Evans Hubbard learned about philanthropy from a young age as the son of Frank and Ruth Hubbard, who were very active in the Central Florida community since 1949.
That is why to this day, it's important to him to keep his family's legacy ongoing through future generations.
Frank Hubbard was the largest single shareholder in Hubbard Construction Co., and as the company made a profit each year, he began funding the Hubbard Foundation with 5% of the annual profits earned by Hubbard Construction Co.
At the sale of the company in 1984 the Hubbard Foundation's name was changed to A. Friends' Foundation, so it would not be confused with Hubbard Construction Company. Frank was Chairman and managed it with Ruth, Evans and Evans' sister Connie.
"It was my dad's deal," says Evans. After the sale of the company, Frank brought his wife, Evans, and his sister onto the board of the foundation. Management has always been kept in the family and now Mom, my wife, son and daughter in law and I serve as the board of managers."
A Friends' Foundation began with small grants in an effort to help as many charitable organizations as possible, but as its assets grew, its grants became larger and more diversified.
"My parents gave to the organizations that they were involved with in the community," said Evans. "They gave to children's issues and in fact, my dad helped start the Boys Club and Trinity Preparatory School. He was also a long-time board member of the YMCA." Evans said that his parents were also involved in Junior Achievement, Orlando Health and St. Michaels.
Requests for grants increased as Central Florida grew and more charitable organizations were formed. Frank's fame as a philanthropist spread and he received many requests to chair capital campaigns and make major contributions in the community.
In 1988 Frank was honored by the National Society of Fundraising Executives and was named the recipient of the National Philanthropist of the Year award. He passed away on August 4, 2007.
The Frank Hubbard Family Fund, a fund of the Central Florida Foundation, supports education, human services and the environment.
The Central Florida Foundation exists to encourage and support community-based philanthropy and maximize the charitable contributions of the community's investors over the long term. All philanthropy is encouraged, with a special emphasis on the establishment of endowment funds to provide a permanent source of charitable capital.
The professional staff has expertise in investing in the quality of life in the Central Florida community. They offer personalized service and expert giving advice backed by a deep knowledge of the community and assist by handling the administrative details.
"The Central Florida Foundation makes giving easy," said Evans. "We hear from the foundation once per year about how much money we have to give back to the community and we send a list of the organizations that we want to support. The foundation staff takes care of everything – it's just that easy."
"Our family has been blessed and it is part of our family legacy to give back since life has been so good to us. It keeps us working together as a family."