Annual survey provides valuable information for donors, nonprofits
June 25 2014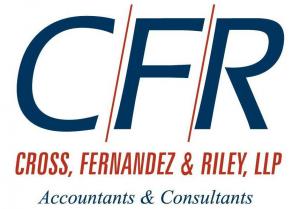 Central Florida Foundation partnered once again with Cross, Fernandez & Riley — one of Central Florida's largest locally-owned public accounting firms — to analyze the results of the firm's 5th Annual Central Florida Public Charities Survey.
Designed to help nonprofits make strategic decisions about their organizations and missions, the survey provides valuable data related to operations, human services, development, volunteerism, governance and strategic planning.
A diverse group of local nonprofit organizations provided the information for the survey during the first quarter of this year. The Foundation compared those results to its own data about the health and diversity of the nonprofit community, found on the Nonprofit Search section of the Foundation's website.
Nonprofit Search (NS) provides reports on the state of Central Florida's arts and human services, as well management, governance, program and financial information on more than 800 nonprofits across Central Florida. Each organization found in the search creates a nonprofit portrait that is reviewed by Foundation staff members. Once assessed, the portrait receives the "reviewed" logo, ensuring the information is complete, current and consistent with other reporting documents, such as audits and IRS forms.
"This unique mix of data — 'real world measures' from Nonprofit Search and a survey of nonprofit results from the region over the last year — provides a one-of-a-kind look at how the nonprofit sector actually operates," said Mark Brewer, president and CEO of Central Florida Foundation. "Nonprofits that want to better understand how they fare in comparison with others and donors who want to set expectations for their giving now have a guide to inform their planning and giving."
From its analysis of the survey, the Foundation noted the following key results, along with a comparison from its NS findings:
• Sixty percent of survey respondents reported an increase in revenue during their latest fiscal year, while 28 percent reported a decline. The NS data supports the overall increase in revenue — in excess of 4 percent from 2011 to 2012. Notably, the revenue from earned income and public sector funding has grown.
• More than 67 percent of this year's survey respondents reported a salary increase, compared to 61.7 percent from the 2012 survey; 44.9 percent reported an increase of between 3 percent and 4 percent. The NS data shows average CEO compensation has remained steady at $68,000 for the past three years.
• The largest increase in fundraising activities in the 2013 survey related to annual campaigns, which 47.8 percent of respondents said they conduct, compared to 37.2 percent last year. According to NS data, the average fundraising cost is 4.7 percent. Additionally, organizations reported 45 open capital campaigns in 2013, with 124 planned in the next three to five years.
• In this year's survey, 50 percent of respondents reported an increase in volunteer involvement by both engaged leaders and general volunteers, compared to 48.8 percent in 2012. The NS data shows average board meeting attendance increasing slightly to 77 percent.
• Ninety-one percent of respondents reported giving annual conflict of interest statements to their governing board members. The NS data shows the number of organizations using these statements increased nearly 20 percent from 2012 to 2013.