A Place for People Who Want to Invest in Their Community
July 10 2015 • Rachel Calderon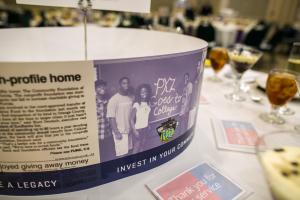 Have you ever wondered, "What does Central Florida Foundation do?" You probably know us from a specific experience you had connected to a grant, a meeting, a client, a board you serve on, word of mouth, or even your own fund. If you were asked what do we actually do, what would you say? Here are a few points, since the truth is we do a lot. Our mission, Building Community by Building Philanthropy, means everything from helping nonprofit organizations do their work more efficiently, to student-led grant-making, to grants from advised funds all the way to helping lead social enterprise in Central Florida through our Entrepreneurs in Action initiative and everything else in between.
How do we make this kind of work happen?
First, we manage and invest charitable funds. CFF is the trusted philanthropic home for more than 400 charitable funds. We employ Colonial Consulting, LLC as our independent investment consultant. Colonial Consulting monitors performance of our money managers and makes recommendations to our investment committee on goals and objectives for each asset class. Our board and its investment committee oversee the independent investment consultant and the investment managers. The investment committee includes board members and community members who have significant knowledge and expertise. We are honored to steward the resources and legacy that each fund represents and consider the opportunity a great privilege.
Second, we offer personalized service and expert giving advice tailored to your charitable interests and goals. Our goal is to help you invest in your community and help those investments go further to make the most impact as possible. Whether you're looking to impact the lives of underprivileged children, honor a loved one's memory, get your family members involved in philanthropy or anything else, that's how we are here to help. Assisting you with carrying out your personal legacy and mission is what excites us and is why we are here – to help people invest in their community and make stronger giving decisions.
Third, we connect caring people, businesses, governments and organizations to local initiatives that build and inspire community. Local initiatives that we lead include:
Entrepreneurs in Action, which focuses on nonprofit organizations that are redesigning the way they do business with the help of local entrepreneurs

Impact Funds (with a current focus on the Homeless Impact Fund)
Student led grant-making to educate the next generation on philanthropy
Women in Philanthropy, an exciting way for women to grow in their philanthropy through participation in two unique giving circles.
In addition to the initiatives we lead at CFF, we help empower you to make stronger giving decisions through using our Nonprofit Search site. Nonprofit Search is the place for discovering Central Florida nonprofits and is how we can connect you to important work happening in our community. We believe that transparency is so important that we provide this tool to the community free of charge. There is no cost to research nonprofits and no cost to nonprofits to create a portrait in Nonprofit Search.
Local philanthropist Steve Isaacs always goes to Nonprofit Search before he invests in an organization. Steve says, "For me, Nonprofit Search is the equivalent of the Better Business Bureau for local nonprofits. Using Nonprofit Search has helped to clarify how certain nonprofits are structured, and it has widened my vision of nonprofits. It even helped me come up with my mission and vision for my giving." We take pride in providing unique tools to you to help make giving easy, exciting, rewarding and fun.
We are proud to do the work we do every day to help people invest in their community. Our professional staff is ready to help you learn more about how we can help you give back, get involved and enjoy the steps along the way. It's all about making Central Florida a better place to live and we want to help you be a part of it. Contact us today to see how we can help you invest in your community now and in the future.
Written by: Rachel Calderon, Marketing & Communications Manager at the Central Florida Foundation