CFF News Archives
April 07 2017
This week we had the opportunity to get together with our nonprofit fund holders to enjoy sweets and treats and say thank you for partnering with us to sustain their organization for the years to come. We were excited to give everyone a copy of our NEW nonprofit endowment toolkit,...
April 06 2017 • Meghan Warrick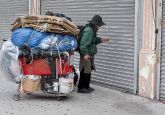 In our last post about homelessness, we discussed a housing-first approach that our community has adopted to end homelessness in Central Florida. This month, Meghan Warrick, our executive vice president and chief financial officer is sharing a more personal perspective on homelessness and how as individuals we can help… Often...