CFF News Archives
September 25 2015
September 25, 2015 – Orlando, Fla. - The Central Florida Foundation announced today that Sandi Vidal has been named vice president of community strategies and initiatives. In her role as part of the executive team, Vidal is responsible for implementing the vision and mission of the Central Florida Foundation through...
September 12 2015 • Rachel Calderon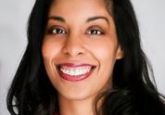 In 2014, Esperanza Perez was awarded a scholarship from the Beatrice B. Ettinger Scholarship Fund at Central Florida Foundation. She graduated from the University of Central Florida Burnett Honors College this past May with a degree in Accounting and Finance. She is currently an intern at KPMG. The Beatrice B....