AOL Power Couple Connects Their Passion To Impact in the Community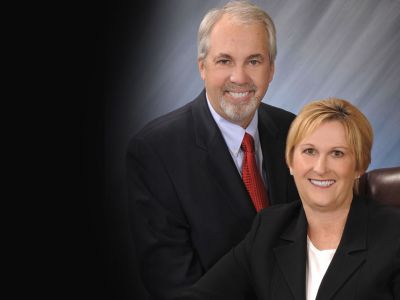 As newcomers to Central Florida, Lyn and David Berelsman didn't wait around for typical welcome gestures of warm apple pies and invitations to backyard barbeques to get involved. The Berelsmans took their cue from the Central Florida Foundation forming a philanthropic relationship that aimed to elevate their new community's quality of life. "We wanted to learn more about civic opportunities in Central Florida so we attended a meeting at the Rollins College Philanthropy & Nonprofit Leadership Center," explains Lyn, a retired AOL Executive.
There, the couple heard from Central Florida Foundation President/CEO Mark Brewer who impressed the Berelsmans with his knowledge of the local needs and opportunities for philanthropic work. It was a meeting of the minds and hearts. That was in 1999 and the Berelsmans had just recently moved from Sydney, Australia to Celebration, Florida. "We like to call ourselves professional community volunteers," explains Lyn. Husband David is a former TV producer who built a successful career with ABC Network and later joined Lyn at AOL before retiring in 2001.
After the couple's introduction to the Central Florida Foundation, the Berelsmans established a non-endowed advised fund that has made two significant grant making commitments. The Berelsman Family Fund supports the Cancer Library at Florida Hospital, Celebration and provided seed money for the Foundation's Center for Women's Philanthropy. The decision to fund these two organizations stems from the couple's passion for health care, education and women's issues.
"We made several contributions through a four year grant to the Cancer Library," explains Lyn. "Our vision was to allow the Cancer Library to become an integral part of the healing plan by serving as a reliable source of information for those recently diagnosed with cancer." Most of the library's information comes from the National Cancer Institute and the American Cancer Society. "We think the Cancer Library can be a unique vehicle to inspire philanthropy in others at a different level by helping fill the bookshelves," explains David.
The Berelsman Family Fund's support of the Center for Women's Philanthropy comes from Lyn's membership in the 100 Women Strong giving circle. "This is a dynamic group of women who pool their financial donations to leverage our giving dollars. Together, we share common goals and have a great opportunity to make a long term impact in the community," explains Lyn.
100 Women Strong Giving Circle has supported domestic violence, pregnancy prevention and food security among other issues facing women and children. The group aims to raise $100,000 to support these issues.
Philanthropy is a way of life for this couple whose motto is "Have fun, make money and do good." David is a member of the Board of Directors of the Celebration Foundation, Inc. which has its nonprofit endowed fund at the Central Florida Foundation. He advises and mentors with Take Stock in Children, and sits on the board of the Education Foundation of Osceola County. Recently, he helped create a program called "Medical Pipeline" to get more Osceola students interested in careers in the health fields. He is also active on the community advisory board of WMFE, the local Public Radio Station.
Lyn is a past Chair of the Community Investment Advisory Board at the Central Florida Foundation, which recommends grants. Today, she dedicates her time to the Foundation's Center for Women's Philanthropy as well as the Orlando Shakespeare Theater. She recently joined the board of trustees of WMFE. Lyn has been mentoring high school students through the Take Stock in Children program for more than a decade; a volunteer opportunity that is as rewarding for her as it is for the students.
The Berelsmans grew up in the Midwest and spent 20 years working in Washington D.C. before moving to Central Florida. "We have a large family with many nieces and nephews and want to foster a passion for philanthropy in them," says Lyn. Together, the couple sets a sterling example of civic and charitable involvement in places they have called home over the years. They fund several college scholarships for high school students in their hometowns. True to their desire to pass on the philanthropy torch, the couple is handing over the administration of those scholarship funds to family members.
"We have a private family foundation that funds organizations we are familiar with in Ohio and Minnesota. We personally know these nonprofit organizations and the impact that they make in the local communities. We don't have to rely on other sources to target credible needs there," explains Lyn.
In Central Florida, where the Berelsmans lacked a personal history with the community, the Central Florida Foundation offered a fast track to philanthropic involvement. "The Foundation introduced us to giving opportunities that we wouldn't have known about otherwise. The organization is really good at matching people together with needs and opportunities together with philanthropic desire," said Lyn.
The Berelsmans plan to grow their non-endowed advised fund at the Central Florida Foundation and they remain open to new philanthropic opportunities. "I think it's important for everybody to find a way to contribute. The Central Florida Foundation finds the best match for your individual strengths and interests," says David, who was able to handle much of the fund's initial logistics online.
"Our fund was easy to setup and easy to administer. The Central Florida Foundation offers a lot of flexibility in giving and the opportunity to pool your money with others to leverage your impact," explains David. The fund's flexibility allows the Berelsmans to spread their donations over several years, which has its advantages for estate planning as well as for the charitable recipients.