John and Rita Lowndes - Creating a Family Tradition of Giving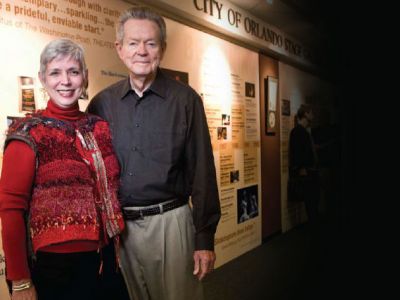 Orlando is fortunate to have some of the most generous and compassionate people found in Central Florida. Committed to sharing their financial blessings, John and Rita Lowndes, rein among the most active of these philanthropists.
The Lowndes' passion for supporting their community through financial contributions, as well as countless volunteer hours, to a variety of nonprofit organizations has resulted in the enrichment of many lives. Exposure to arts and culture, measurable improvements in education, and life-changing encounters through humanitarian projects are all examples of how active involvement of the Lowndes has made an impact.
John and Rita's substantial contributions are not propelled by public recognition. Their motive is pure: to make a difference in the lives of those who live, work and find encouragement in the community in which they live.
To accomplish this mission, the astute couple called upon the Central Florida Foundation to administer the John and Rita Lowndes Family Fund.
"The Central Florida Foundation alleviates much of the expense and administrative burden associated with establishing a private foundation. For us, it was the better alternative to working with a private bank," says John. "We didn't want our charitable giving to be a one time windfall for a 501(c)(3)," he explained referring to a nonprofit organization or charity, "But rather a reliable source of revenue now and for generations to come.
Through our community investment grant rounds, the Central Florida Foundation evaluates nonprofit organizations to ensure the grant money will enhance their sustainability and build capacity. In addition to advised funds, the Central Florida Foundation offers a variety of giving options including scholarships and nonprofit endowments, and accepts a wide range of assets. Donors can establish a fund with cash, appreciated securities, real estate, life insurance, IRAs, annuities, partnership interests, bequests, trusts and annuities.
With more than $55 million in individual, family and corporate funds, the Central Florida Foundation continues to help philanthropists disburse their charitable donations in an effective and efficient manner.
According to Rita, supporting a charity is more than just writing a check. Her active volunteerism has included the roles of chairperson on the Coalition for the Homeless, and Orlando Shakespeare Theater, Trinity Preparatory School, UCF Town and Gown Council, and Planned Parenthood of Orlando.
Though generous to a number of diverse organizations, Rita's focus tends to gravitate toward arts and culture. Her efforts have significantly impacted the development of high quality Orlando venues which rival those of other cities across the country.
"I am passionate about the arts because it helps children become better thinkers, problem solvers and achieve greater academic success. You also have an opportunity to touch somebody's heart and soul with the arts," says Rita, who served on the Community Foundation of Central Florida Board of Directors.
John, a firm believer in the power of education, is a strong supporter of Duke University School of Law, the University of Central Florida, and Trinity Preparatory School. Over the years, he has served as Chairman of the UCF Foundation Inc. Board of Directors and funded an endowed chair at Duke University School of Law, in honor of his father and former professor, Charles L.B. Lowndes. "I really believe that education is the solution to a lot of the world's ills," says John, who is successful attorney and founding partner of Lowndes, Drosdick, Doster, Kantor & Reed, P.A.
The Lowndes, who long to see their practice of philanthropy embraced by their children and grandchildren, have set a plan in motion to promote more family participation.
With a gift of more than $500,000 in appreciated stock, the Lowndes established an advised fund with the Central Florida Foundation.
"Our idea is to help the grandchildren understand the value of involvement in their community and how they can make a difference in important ways," says Rita.
Each year the couple's eight grandchildren and five adult children are asked to select charitable causes to become beneficiaries of the fund. Not only does this activity spark spirited debate as the individuals champion their particular causes, but allows the children to become intimately aware of the functions and missions of the chosen recipients. The rewards are immeasurable as they see the impact of their involvement through financial support.
"We have given our family members a designated amount that is disbursed from the fund each year. We want our grandkids to share their ideas with us and their parents," explains Rita.
Sadly, everyone faces the loss of a loved one, as did the Lowndes family in 2006. As a result of their positive experience with Hospice of the Comforter, the family unanimously voted to bequeath a charitable donation to this nonprofit organization which aids in the comfort of patients with terminal illnesses, as well as help family members cope with the loss.
The Lowndes want to encourage others to think of philanthropy in the present rather than waiting until a large sum is amassed.
"Rita and I make a lot of charitable contributions aside from the family fund. It's helpful that we can accumulate money in the fund and benefit from the tax deduction the year we make the gift without having to make decisions now about how to disburse the funds," says John, who served on the Foundation's investment committee. "There is a great deal of work that goes on by the Central Florida Foundation staff to assess needs in the community and the nonprofits responding to those needs," Rita adds.
"It's really about an investment in the future of our community. For me, giving back is just the right thing to do," says John.