DeLand Native Honors Loved One's Memory Through an Endowed Scholarship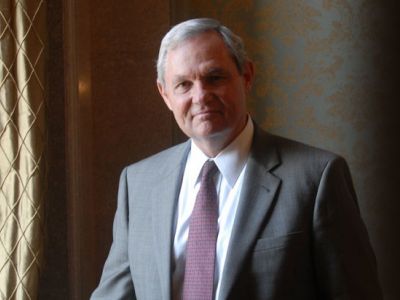 As a teenager, Ambassador Robert Hutchings took classes from his Aunt Sarah Elizabeth "Betty" Foard Hutchings, a longtime teacher at DeLand High School, known to most by her maiden name as "Miss Foard." The much-admired teacher taught mathematics for 40 years inspiring three generations of DHS students. So when Betty died at age 93 leaving Hutchings an inheritance, he could think of no better honor than to establish a scholarship in her name. "I wanted to do something for the community that would carry on my aunt's maiden name," says Hutchings. He contacted the Central Florida Foundation and worked with the staff to set up an endowed scholarship fund for DeLand High School students.
"The Foard Award is meant to inspire future generations with the ideals that guided my aunt's long and joyful life of service to others," says Hutchings, whose family roots are inextricably tied to DeLand High School. His parents both graduated from DeLand High School as well as their siblings and several other family members.
In 1964, Hutchings graduated from DeLand High School and attended the United States Naval Academy. After graduating from the academy and serving as a Naval officer, Hutchings earned his Ph.D. from the University of Virginia in International Relations. His combined career in academics and public policy took him to the highest echelons in politics and the federal government. He served as Director for European Affairs with the National Security Council, Special Adviser to the Secretary of State, with the rank of Ambassador, and Chairman of the U.S. National Intelligence Council in Washington, D.C. He is also an accomplished scholar and author. He has written books for the Woodrow Wilson International Center for Scholars and taught at Princeton University where he has a Diplomat in Residence. He is now Dean of the Lyndon B. Johnson School of Public Affairs at the University of Texas. Throughout his career, he drew inspiration from his beloved Aunt Betty.
"As a teacher, instead of showing students the one right answer, she gave them the tools and encouragement to find their own answers. She made mathematics an integral part of her students' liberal education," says Hutchings. Betty Foard Hutchings taught high school well into her 70s and continued teaching Sunday School and working with a prison ministry into her 90s.
The award that bears her name offers an annual scholarship to a graduating senior from DeLand High School. An inaugural scholarship of $5,000 was awarded in May 2006. "I wanted to create a single award so that the amount of money would be enough to make a difference in a young life," says Hutchings, who started the fund with a gift of more than $100,000 and plans to continue making gifts in the future. Distributions from the endowment will fund the annual scholarship. Hutchings credits former Central Florida Foundation staff with devising an imaginative way of nominating and selecting the students that engaged the entire high school faculty and members of the DeLand community. "The professional staff at the Central Florida Foundation was good about writing the terms of the award so that there was no ambiguity. Even if I weren't involved, there would be a clear set of instructions," explains Hutchings.
The Foard Award is DeLand High School's single largest locally-funded award to be given on an annual basis. "Academic excellence and public service are the selection criteria in equal measure, although we give some consideration to financial need as well," explains Hutchings. "The scholarship is a way of recognizing my aunt's huge contribution to education and the community and to have that example live on in the lives of others. For me, it's a way of giving back to a school and community that still means a lot to me."
Hutchings wants the scholarship to endure and is entrusting the Central Florida Foundation with the fund's investment and management. "They make it possible for people who don't have millions of dollars to give more effectively. Their money is invested wisely and managed so that it can be used for its intended purposes," says Hutchings.
Wanting to foster the scholarship's local connections, Hutchings decided to invest the money and have it managed right in the community it was meant to serve. "The Central Florida Foundation locks the award into the community itself," says Hutchings, who intends to make future contributions to the scholarship fund. Robert and his wife have been thinking about how their future assets can benefit the community. His plans are to create a Hutchings Scholarship at DeLand High School through the Central Florida Foundation, as well as to add to the Foard Award.
"When you have been fortunate to have a good career, you have an opportunity and obligation to invest back in that same community. I've taught at an Ivy League institution and I've seen all the advantages those students have, such as money, great connections and private schools. My hope is that this award helps level the playing field for at least one person from my own high school," says Hutchings. "I also see this award as a way of recognizing and thanking all the teachers, past and present, at DHS."
Through his charitable actions, Hutchings hopes to inspire people of all means to make a difference. "The government and private sector can't do everything. There is still a need for philanthropy on a large and small scale. Even a small gift can be part of making a big difference in whatever the donor cares most about, from arts to academics to environmental causes," says Hutchings.